Yusuff and Barboza Ready to Meet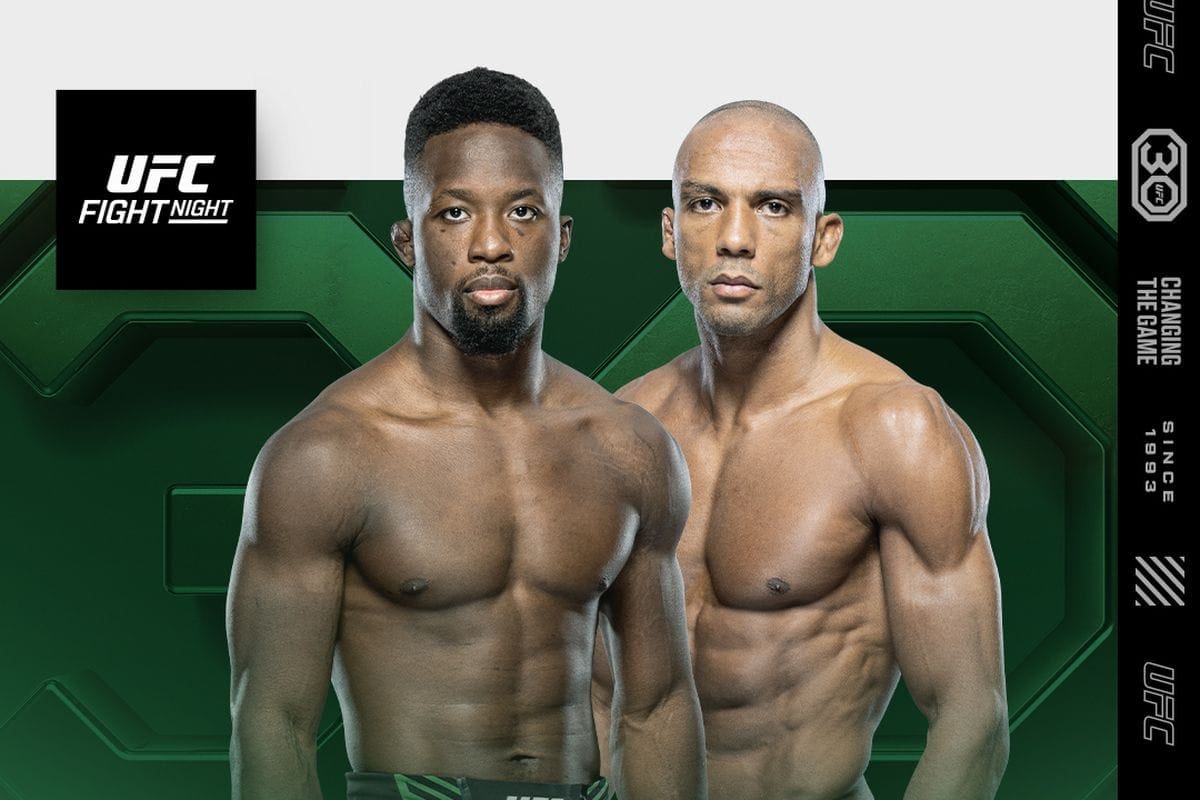 Sodiq Yusuff and Edson Barboza received a bigger platform following an unexpected scheduling change. The latest MMA news shows this fight was originally supposed to take place on the undercard of an October 2020 fight night. However, Yusuff pulled out. 
Both fighters have raised their profile significantly enough in the meantime to make this matchup more appealing as a main event. Yusuff has won three of his last four fights since the canceled first matchup, including a submission win over Don Shainis in October 2022. The only loss he has in the UFC is to fellow ranked featherweight Arnold Allen.
Barboza, 37, took a step down following a brutal stretch of fighting top contenders. Barboza responded to a two-fight losing streak by beating Billy Quarantillo by knockout in April 2023. Both men are hoping a win here will keep them in the conversation for big fights down the road.
Barboza's Record is Misleading
Looking at MMA news sites would show you that Barboza is 23-11 during his career and has lost seven of his past 11 fights. However, Barboza was also willing to take on all comers. He took losses to former UFC champion Khabib Nurmagomedov and former interim champion Justin Gaethje, along with a bevy of top contenders like Bryce Mitchell, Dan Ige, and Paul Felder.
Several of Barboza's losses also came by razor-thin margins. His losses to Ige and Felder both came by split decision. What Barboza showed in his last fight against Quarantillo was that his terrifying power is still capable of dropping opponents. Barboza has scored 14 of his career victories by knockout.
Maia Needs Emphatic Victory
Jennifer Maia has gotten on the right side of the ledger during her past few fights. But just scraping by with decisions won't be enough to climb the ladder in a deep women's flyweight division. Maia, ranked No. 9 in the division, will want to try and finish the fight vs No. 11 Viviane Araújo.
Maia hasn't won a fight by stoppage since she submitted Joanne Calderwood on Aug. 1, 2020. Since then, Maia, who is 21-9-1 in her career, has gone 3-3, including a decision loss in a fight with Valentina Shevchenko for the title. Araújo isn't looking for style points.
She needs a win or could be getting closer to being cut entirely. Araújo is 1-3 in her last four fights and is on a two-fight losing streak overall. During a title eliminator with current champion Alexa Grasso in October 2022, she lost a unanimous decision.
Martinez, Yanez look for Wins at Bantamweight
Adrian Yanez, ranked 14th, didn't look like the transition to the UFC bothered him too much. After earning a contract on Dana White's Contender Series, Yanez won five straight fights to improve his record to 16-3. Then veteran Rob Font gave him a lesson in striking.
Font caught Yanez in the first round back in April, giving Yanez his first-ever defeat by TKO. Matching up with No. 13 Jonathan Martinez will provide Yanez with another difficult task. Martinez has won five straight fights since taking his first knockout loss to Davey Grant in March 2021.
Chariez, Lacerda Ready for Rematch
Daniel Lacerda nearly took his fifth straight loss on Sept. 16 in Las Vegas. But referee Chris Tognoni's decision to wave the bout off too early made the UFC eager to set the fight up again. Lacerda was relaxing his arms to try and relieve the pressure from a standing guillotine choke when it appeared his arms went limp.
However, Lacerda wasn't out. But when Tognoni saw the arm go limp, he stopped the fight and awarded Edgar Chairez a submission victory. The decision was immediately reviewed by the cage side official. The replay official determined that Tognoni had erred, and it was ruled a no contest.
Saaiman Tries to Protect Perfect Record
South Africa Cameron Saaiman has had relatively smooth sailing through his first three fights on the UFC main card. During 2023, MMA news websites have chronicled Saaiman picking up one victory by TKO over Terrance Mitchell in July. He also won by a majority decision after having a point deducted due to groin strikes against Leomana Martinez in March.
Saaiman will have to try and protect his 7-0 record against Christian Rodriguez, who is 9-1. Rodriguez made major waves in his last fight. The veteran fighter handed 18-year-old Raúl Rosas Jr. his first career loss in April on the undercard of the Israel Adesanya and Alex Pereira title fight.
Elkins Trying to Prove He Still Has It
The featured preliminary fight will have Darren Elkins taking on T.J. Brown in a featherweight belt. Elkins, 39, has long been a thorn in the side of young fighters, who struggle to contain the durable veteran. Elkins is now 37-11 in his career and has won three of his past five fights after suffering a four-fight losing streak. Brown is 17-10 and coming off a fight of the night defeat to Bill Algeo in April. Brown has also won three of his past five fights.
McKinney Highlights the Rest of the Undercard
Terrance McKinney will be stepping into the octagon for his fourth lightweight bout of the year against Chris Duncan. McKinney could probably fight about six times a year with how short his fights usually are. Sixteen of McKinney's 20 professional fights have been stopped in the first round.
This year has been a mixed bag for McKinney. He suffered two second-round losses by submission and knockout to Nazim Sadykhov and Ismael Bonfim, respectively. McKinney did rebound in his last fight by knocking out Mike Breeden in 85 seconds.
Here are the rest of the fights on the undercard:
Women's bantamweight, Irina Alekseeva vs. Melissa Dixon.

Bantamweight, Chris Gutierrez vs Alateng Heili.

Women's strawweight, Ashley Yoder vs Emily Ducote.
Find all the latest boxing news and MMA breaking updates on BoxingBlitz.
THANK YOU FOR CHOOSING boxingnews.COM