Allen Rumored to Return At First UFC Pay-Per-View of 2024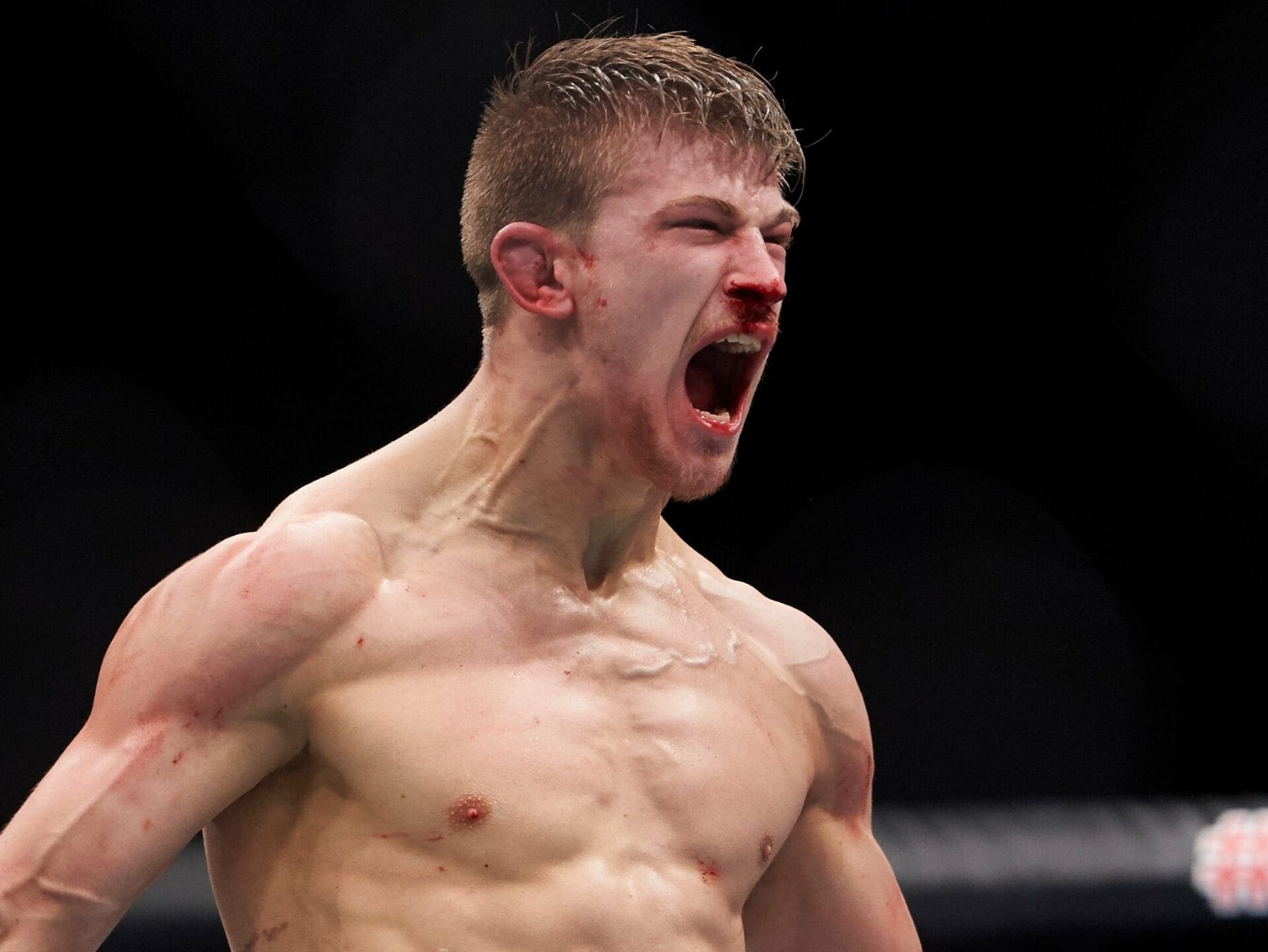 Arnold Allen found out the hard way what happens to top prospects in the featherweight division. The latest MMA updates show that anyone who wants a shot at champion Alexander Volkanovski must find a way past Max Holloway first. Holloway, a former champion, has become one of the UFC's top gatekeepers.
Holloway earned a five-round decision over Allen in April that likely slowed down Allen's progress toward a title shot. One nice thing about the UFC is anyone looking for a chance to rise through the rankings quickly and be active in the cage has an opportunity for redemption. Allen's rumored return will be against Movsar Evloev at UFC 297.
The featherweight fight is also rumored to be set for Toronto, Canada. UFC has yet to announce the event formally. Despite the loss, Allen is still No. 4 in the featherweight rankings. If Allen wants to move up the board, he will need to beat No. 9 Evloev.
Allen was riding a double-digit winning streak before losing to Holloway. Now, he will need to channel his best effort to keep his Russian challenger at bay.
Who is Arnold Allen?
Allen, 29, is a featherweight fighter from Ipswich, England. He found success in the regional scene in Great Britain. During his first three years as a professional, Allen put up a 9-1 record. Following a TKO win over Paul Cook in November 2014, Allen would sign with the UFC.
Allen made his debut in a short-notice bout with Alan Omer. During the first two rounds, Allen struggled to adjust and found himself behind by two rounds. Allen would bounce back by submitting Omer in the third round.
The win over Omer kicked off a long, successful stretch to start his UFC career. Allen ran the winning streak to 10 fights, culminating in a win over Calvin Kattar on October 29, 2022. While Allen won that fight due to Kattar suffering a knee injury in the second round, many thought Allen was destined for a title shot.
Allen is the owner of the third-longest winning streak in featherweight history. He has been given Performance of the Night bonuses for three of his fights in the UFC. During Allen's career, he has been game for many challenges. Allen has fought in three different weight classes — bantamweight, featherweight, and lightweight — during his career. 
Holloway Halts Allen's Streak
Losing to Holloway was a disaster on several levels for Allen. Firstly, Allen was a serious contender to earn a title shot against champion Alexander Volkanovski. But the optics of Allen's loss may have long-term effects on his career.
UFC President Dana White criticized Allen's team for not imploring him to do more during the fight. White felt that Allen looked his best in the first round when he fought more urgently. Allen attempted his most significant strike attempts in the fifth round with 66. 
Holloway was more active than Allen in every round except for the fifth. Holloway finished with a 147-76 edge in significant strikes.
Evloev Happy to Have a Fight
Evloev thought he was getting a shot at fellow top 10 opponent Bryce Mitchell in early May. That didn't work out for Evloev after Mitchell was forced to pull out. He earned a bonus for his performances against short-notice replacement Diego Lopes.
Evloev is from Russia and has a background in Greco-Roman wrestling. He started his MMA career in M-1 Global in 2014. He jumped to the UFC after starting his career 10-0 and winning the M-1 Global bantamweight championship. Evloev hasn't shown an ability to finish fights in the UFC.
All seven of his wins in the UFC have come by decision. Evloev does have three knockouts and four submissions on his record from his days at M-1. Evloev is being billed as a potential future title challenger as well. However, Evloev will likely have to find a way to finish fights to get there. The featherweight division is crowded with top talent, some of whom have a much better finishing touch than Evloev.
Volkanovski in Middle of Long Reign
The goal for Allen and Evloev is to dethrone champion Alexander Volkanovski. Anyone looking at MMA news sites will know that is a task no one has figured out yet. While Volkanovski has had several close title fights, he dominated his title defense in July against Yair Rodriguez.
Volkanovski has defended the featherweight championship four times. The only loss of the Australian's UFC career came in February when he attempted to beat Islam Makhachev to win the lightweight title. Volkanovski lost to Makhachev by decision.
Volkanovski, 35, has been vocal in his desire to fight Makhachev again. There is little indication that will happen. Volkanovski fought twice a year in 2022 and 2023. The UFC will likely hope he can keep that schedule up for the next few years. There is a rumor that Volkanovski's next fight will be on the same card as Allen's fight with Evloev, but nothing has been announced as of yet.
Challengers at Featherweight are Aplenty
The UFC may need to change its approach to booking featherweight. Pitting young contenders against Holloway isn't a good strategy. The UFC will want to find someone it believes can sell a title fight as a legit challenger to Volkanovski.
The other problem is the top three contenders, Holloway, Rodriguez, and Brian Ortega, have already lost to Volkanovski. In Holloway's case, he has lost all three fights with Volkanovski, and the appetite for another fight between the two likely isn't there.
No. 5 Ilia Topuria is a hot prospect and could leapfrog Allen for a title shot. Allen won't want to waste an opportunity to take advantage of a division with plenty of talent but not a lot of direction for fights moving forward.
Find all the latest boxing news and MMA breaking updates on BoxingBlitz.
THANK YOU FOR CHOOSING boxingnews.COM