Navarrete Knocks Down Conceicao Twice, Fight Ends In Draw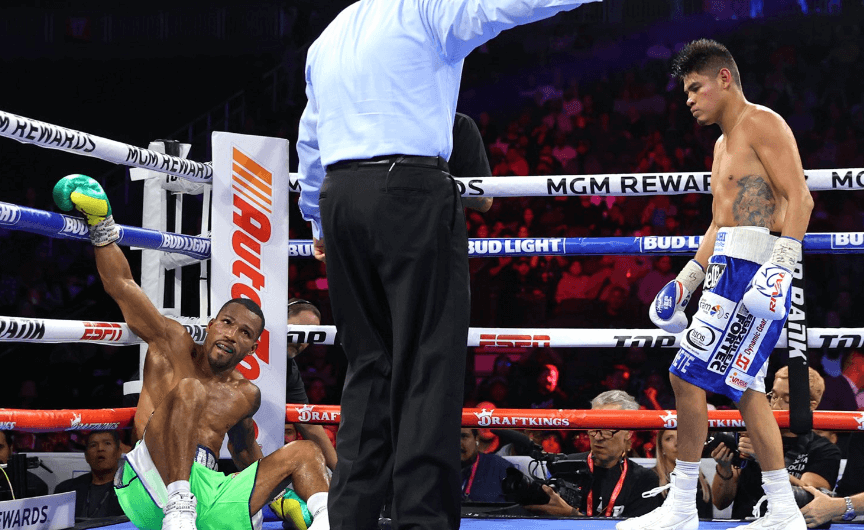 Emanuel Navarrete retained his WBO junior lightweight title against Robson Conceicao with a majority draw in an action-packed fight.
In the opening round, Conceicao took the fight to the champion, landing a right hand to the body. The positive start continued in the next round, as Conceicao pushed Navarrete towards the ropes.
The Brazilian, however, was ticked off by the referee for hitting Navarrete on the back of the head. Conceicao continued his offensive by connecting with a left hook only for Navarrete to fire back with a right hand near the end of the third.
The champion's confidence grew further as a left uppercut dropped Conceicao, who touched the canvas after taking a knee, with just under a minute to go in the fourth. However, Conceicao got back up to get through the round in what was the first major sign of danger.
Navarrete Drops Conceicao
VAQUERO PUTS HIM DOWN 💥 pic.twitter.com/4HqWiQVeL0

— Top Rank Boxing (@trboxing) November 17, 2023
But rather than letting that deter him, Conceicao connected with a left hook and a right hand combination, as well as with a right-left to regain control after a shaky round in the fifth.
During the second half of the fight, Navarrete stepped up to the plate again. The boxer landed a right hand to the body, which sent Conceicao to the floor for the second time.
Conceicao Hits The Canvas Again
BAAAAAAANG!

The champ gets Conceicao again 🏆 pic.twitter.com/6JCoUIZfZs

— Top Rank Boxing (@trboxing) November 17, 2023
After surviving that scare, Conceicao worked himself back into the fight by sending Navarrete on the back foot with a left hook in the ninth.
Conceicao then connected with a right hand to push Navarrete back in the tenth, as both fighters traded as the bout went to the scorecards: 114-112, 113-113 and 113-113.
Reaction
"I'm happy to come away with the belt. I give a lot of credit to Robson Conceicao. We both did what we said we were going to do. We came out here and gave the fans a wonderful fight, and he's a tremendous fighter. His technique is next-level, and that's what made it so hard. If it's up to me, I will definitely give Robson a rematch because he deserves it. It may not be up to me. And if I get another crack at fighting Robson, now I know how he fights, what his technique is like and what his strengths are," Navarrete
"I give 'Vaquero' Navarrete a lot of credit, he's such a powerful fighter, but I know what I did tonight, and I know I deserved the victory. I think we both deserve the rematch. He's a wonderful fighter, I proved what I'm capable of, and I believe if we do get that rematch, we will both train harder, we will both give the fans an even better fight, because we've both proven what we're capable of," Conceicao
Full Card
Shakur Stevenson def. Edwin De Los Santos via a unanimous decision: 115-113, 116-112 & 116-112
Emanuel Navarrete and Robson Conceicao ends in a majority draw: 114-112, 113-113 & 113-113)
Brian Norman Jr. def. Quinton Randall via a unanimous decision: 99-91, 99-91 & 97-93
Floyd Diaz def. Max Ornelas via a split decision: 77-73, 78-72 & 74-76
Troy Isley def. Vladimir Hernandez via a unanimous decision: 77-75, 77-75 & 77-75
Emiliano Vargas def. Brian Mendoza via a second-round KO
Abdullah Mason def. Jose Cardenas via a second round KO
'Find all the latest boxing news and MMA breaking updates on boxingnews.com'
THANK YOU FOR CHOOSING boxingnews.COM