Michael Page Set for UFC Run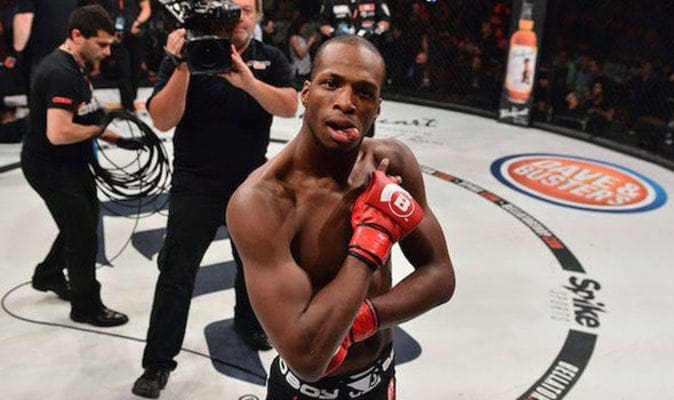 Michael 'Venom' Page has been one of the best fighters to have not participated in the UFC over the past few years. Well, that is all set to change as the British kickboxer and mixed martial artist is now seemingly set to join the UFC in late 2023.
Page's Path to the UFC
Michael Page is a 10-year veteran in the fight game already, having made his MMA debut way back in February 2012. Three consecutive first-round stoppage wins got the attention of the Bellator management, who signed him up for Bellator 93. That fight, his first on a major card, lasted all of 10 seconds as his punch confidently defeated Ryan Sanders. Since then, Page has continued to climb the ranks of Bellator and entered the Welterweight World Grand Prix. He came up short in the semi-finals, however. While he amassed six subsequent wins, he came up short again in his next silverware bout as he lost to Logan Storey at Bellator 281.
Page's last fight saw him get back to winning ways as he defeated Goiti Yamauchi in just 26 seconds on the Bellator 292 card. That performance has since attracted UFC to get in touch with Page after his contract with Bellator expired in late 2023, which made it to the front page of MMA news sites.
Is it the Right Time to Leave Bellator?
Bellator 300 might have been a tremendous card and a big landmark moment for the promotion, but it was at a time when uncertainty hung over the future of the promotion. Multiple MMA news sites reported around the same time that Bellator was for sale, with a few stories stating that its competitor, the Professional Fighters League, was the most likely candidate to buy it, a narrative that has become MMA breaking news.
Given the vagueness and unsure future of Bellator, any fighter who gets a contract handed to them should sign it. The PFL might not be able to onboard the entire Bellator roster, so it's a good idea for Michael Page and anybody else to secure their future with a rival company if possible.
Versatile Skills to Succeed
The UFC isn't just the Ultimate Fighting Championship by name but also by nature. Michael Page would meet a wide range of different fighters with varying styles and games who've been attracted to the top table of MMA already.
Michael Page is a well-versed fighter who may already have the experience and skills to succeed. The overarching concept is his MMA record. He's 21-2, which makes for handsome reading, even if he's yet to taste silverware. However, he's not limited to MMA. He's fought in professional boxing, bare-knuckle boxing, and kickboxing. Two of which he's undefeated in.
UFC Tapping into the Emerging British MMA Market
In late 2023, mixed martial arts is enjoying a renaissance in popularity within the British market. Google Trends notes that the search term has been as high as it has ever been in the last five years. As a result, even traditional television providers like BBC and Channel 4 have started including MMA coverage as part of their remit. Bellator and OKTAGON MMA are now found on those networks, respectively.
To get in on the act, the UFC is trying to make its product more appealing to British audiences by building a solid roster of transatlantic participants – hence why Michael Page is now set to join the company. British audiences are more likely to watch the live transmissions if they have a bigger stake in the fights with a fellow countryman involved. Page links up with Paddy Pimblett, Leon Edwards, and Tom Aspinall in the British UFC locker room.
As well as this, the UFC is also set to host more events outside the US – with a lot now set for Middle East venues like the UAE and Saudi Arabia, which are typically much more convenient in terms of time difference for European audiences.
Where Does Page Fit into UFC?
Given that it's already the end of October 2023, fight fans shouldn't expect to see Michael Page in the octagon until at least 2024. Of course, he could help out if a fighter drops out of a match at late notice, but it's unlikely that Page will jump straight into the top end of any card or division. It's likely that the British fighter will slot into the welterweight division and have to prove himself with fights against the likes of Kevin Holland, Ian Machado Garry, and Sean Brady before jumping up.
If all goes to plan, then Page could set up an all-British championship fight against Leon Edwards – which would be a marvelous marketing exercise for the UFC's British interests, especially if they were to hold the fight at an event across the Atlantic.
However, the elephant in the room is what if it doesn't go to plan. It's worth remembering that Michael Page is coming into the UFC relatively late. He's already more than 20 fights into his career and is 36 years old. If he couldn't become a champion in Bellator (where it's generally seen as lower-rate competition), can he really cause a stir in the UFC? The odds would be against him to win a title belt. If he were to lose his first fight in the UFC, he'd be forever playing catch-up and might be relegated to the undercards of Fight Night events pretty quickly.
Find all the latest boxing news and MMA breaking updates on BoxingBlitz
THANK YOU FOR CHOOSING boxingnews.COM