Stevenson Wins The WBC Belt With A Dull Win Over De Los Santos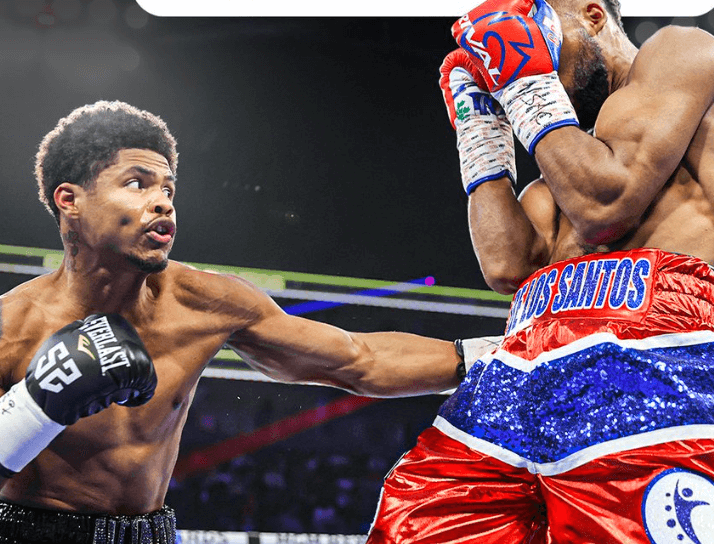 Shakur Stevenson secured the vacant WBC lightweight title with an uneventful win over Edwin De Los Santos via a unanimous decision to become a three-division world champion.
In the earlier rounds, Shakur managed to out-jab De Los Santos as he worked his way into the fight. The latter, however, did manage to push Stevenson on the ropes with his own jab in the second.
But with two rounds already gone, the crowd began to boo due to the lack of output that was on display. It was the same story in the next couple of rounds, as Stevenson's right hand and jab summed up an uneventful third and fourth round, respectively.
As the fight reached the fifth round, De Los Santos began to taunt Shakur for failing to trade with him. However, it appeared that Stevenson may have hurt his left hand at some point after only registering 21 punches with it in the whole fight.
In the second half of the fight, however, Stevenson began to judge the distance better. But in truth, that did not prevent the crowd from becoming more restless as the boos were audible once again.
The frustration was summed up in round nine, as both fighters were warned by the referee to watch their punches after De Los Santos threw after a break in the clinch.
As the fight entered the tenth, Stevenson finally hurt De Los Santos with a straight left. That was then followed by a right hook in a much better round.
And in the championship rounds, Shakur landed the more telling blows with two right hooks in the 11th, as the fight went to the scorecards: 116-112, 115-113 and 116-112.
Reaction
"I really don't care about (being three-division champion. I had a bad performance tonight, that's all I'm really focused on. I wasn't feeling too good. I'll live with it, it's OK, I came here, got the victory, and that's all I wanted to do. I don't got nothin' to say about that [my hand], I don't make no excuses. It happens. We go through a lot as a fighter. I'm good. I just didn't feel good. I didn't feel good before the fight. Honestly, I already told myself, if I'm feeling like this in the ring and it's not going well, I'll make sure to box and get the victory. He's got some punching power. He's got good little defense and he's a little tricky. He grabbed on the inside and stopped me from punching. He's a good fighter," Stevenson
"I CAME TO FIGHT! He came for a track meet" 🏃‍♂️

An emotional interview from De Los Santos after his defeat to Shakur Stevenson.#StevensonDeLosSantos pic.twitter.com/N8NOHs1o7d

— Sky Sports Boxing (@SkySportsBoxing) November 17, 2023
"You know what? I came to fight, he came for a track meet. And I wouldn't say that I'm on his level. I would say I'm above his level because I came to fight tonight. I came to put on a fight, and Shakur Stevenson decided not to fight. He was gifted a title, but I am the champion of the people," De Los Santos
Boxing Community
https://twitter.com/RyanGarcia/status/1725390992910553243?ref_src=twsrc%5Etfw%7Ctwcamp%5Etweetembed%7Ctwterm%5E1725390992910553243%7Ctwgr%5Eba5782eff0f2a7ec9a3506e6570e47787238913f%7Ctwcon%5Es1_&ref_url=https%3A%2F%2Fwww.badlefthook.com%2F2023%2F11%2F17%2F23965120%2Fwould-ask-money-back-ryan-garcia-haney-pros-react-shakur-stevenson-de-los-santos-boxing-news-2023
Should've offered this Bum 10% I was being too generous!

— Devin Haney (@Realdevinhaney) November 17, 2023
Atleast the Formula 1 will be exciting 🏎️ Vroom Vroom.

— George "Ferocious" Kambosos Jr (@georgekambosos) November 17, 2023
'Find all the latest boxing news and MMA breaking updates on boxingnews.com'
THANK YOU FOR CHOOSING boxingnews.COM