Allen and Craig Plan to Make Each Other Tap Out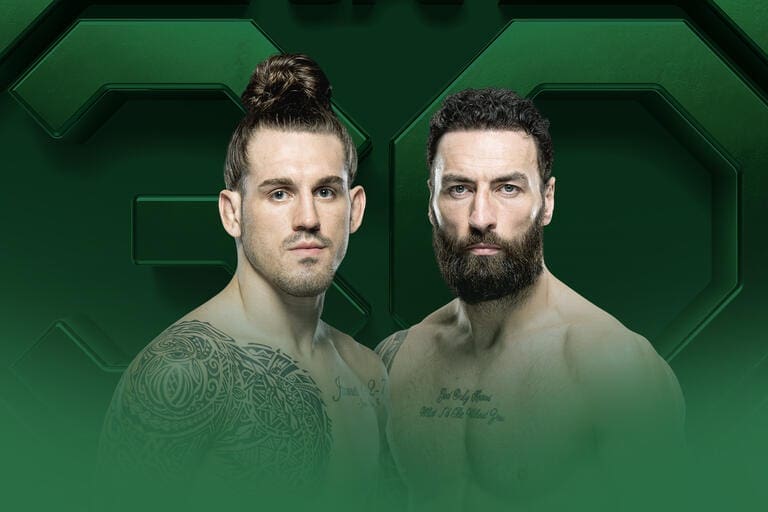 Paul Craig found the middleweight life suited him. While Craig had contested the first 23 bouts of his MMA career at light heavyweight, he decided going down a weight class may be a better fit for his talents. In Craig's middleweight debut at a fight night in July, MMA breaking news shows Craig won via knockout over Andre Muniz.
Craig has a No. 13 ranking now and hopes a win over Brendan Allen could vault him into the top 10. No. 10 Allen won't be an easy test for Craig. Allen's credentials on the ground are nearly equal to Craig's. During Allen's five-game winning streak, Allen has won four of those fights by submission.
Craig Hopes to be Terror at Middleweight
Craig, 35, wasn't totally out of his depth at light heavyweight. Craig pulled out of the biggest upsets of his career by knocking out current champion Jamahal Hill in June 2021. That was part of a six-fight unbeaten streak for Craig. However, that came crashing down during a decision loss to Volkan Oezdemir in July 2022.
Craig then lost his next bout to Johnny Walker in the first round by KO. The loss to Walker caused Craig to reflect on his career. The top MMA news sites said that Craig felt middleweight was more suited to his frame. Craig is 17-6 during his career in MMA, and he has finished 13 of his victories by submission.
Allen Has Matured into Safer Fighter
Allen has taken two knockout losses during his time in the UFC. Several years back, Allen was knocked out by current champion Sean Strickland. Allen also has a knockout loss to Chris Curtis. 
During his current winning streak, Allen has put himself in a much safer position. While Allen is always in danger of being caught flush and put down with intense strikes, his defense has improved considerably. Allen is also a submission threat, having finished 13 of his victories by submission.
Morales Wants to Show He Belongs
Undefeated welterweight Michael Morales has been unseating all of the veteran gatekeepers the UFC has been sending his way. So far, Morales has won all three fights on the UFC main roster since earning a spot in the promotion via Dana White's Contender Series. Morales, now 15-0 in his career, has won two of those three fights by KO.
Jake Matthews is a veteran fighter who can gauge how far a prospect can go. Matthews is 19-6 during his career and made his UFC debut in 2014. Matthews has never had extended success in the UFC as far as winning streaks go. This is a spot for Morales to pick up another strong win for his resume.
Hooper Needs to Get Back in the Groove
Chase Hooper's debut in the UFC in 2019 as a 20-year-old indicates he would have the potential to grow in the lightweight division. But four years later, everyone is waiting to see when Hooper will start to flash the potential that led to his quick rise. Fighting fellow American Jordan Leavitt, 28, will provide an exciting matchup for Hooper.
The latest MMA updates show that Leavitt, like Hooper, likes to grapple. Leavitt has won six of his 11 career wins via submission. But Leavitt has an unorthodox style. That may play into Hooper's hands.
Hooper also has a funky grappling style he leans on. Hooper's struggles have always come in his striking game.
Talbott Prepares for UFC Debut Against Nick Aguirre
Payton Talbott turned heads during his appearance on the Contenders series when he upset Reyes Cortez Jr., the brother of UFC fighter Tracy Cortez, back in August at the UFC Apex. Talbott displayed a solid ability to stand and trade in the pocket against Cortez. 
That will serve Talbott, 6-0, well against Nick Aguirre on Saturday. Aguirre, 7-1, isn't known for having colossal power. Aguirre does have three knockouts to his name but also has four submissions.
Ribas Would Like to Bounce Back
Amanda Ribas will be back at strawweight. That may make all of her fans feel safer. Ribas has gone up in weight class a few times during her time in the UFC, but her last flyweight fight ended in a disaster. Ribas got into a war with Maycee Barber in June and was eventually knocked out in the second round of a bloody battle.
Going back to strawweight will put Ribas back in a division where she has to worry less about her opponent's power. Ribas will be taking on No. 9 Luana Pinheiro. Pinheiro is 11-1 in her MMA career and has won all four fights since joining the UFC. 
Pinheiro started with a judo background and has also dabbled in BJJ. Pinheiro has won six of her fights by submission. Ribas, ranked at both strawweight and flyweight, is more of a points fighter. Not having to worry about the power that someone like Barber carries will be a big relief for Ribas.
Medić
Has Been Building Momentum
Uroš Medić has picked up two consecutive knockouts and will get an opportunity to open up the main card against Jonny Parsons. Parsons burst onto the UFC scene by knocking out Danny Roberts in July. Parsons is 9-3 in his career and has won seven of those bouts by knockout.
Preliminary Card Stuffed with Fights
If every fighter makes it to the event on Saturday without having anyone pull out or fall ill, there will be eight fights to get the action going at the Apex. Here's a look at all the potential action that could take place in Las Vegas.
Featherweight: Jonathan Pearce vs. Joanderson Brito

Bantamweight: Chad Anheliger vs Jose Johnson

Middleweight:

César

Almeida vs. Christian Leroy Duncan

Heavyweight: Mick Parkin vs. Caio Machado

Featherweight: Jeka Saragih vs. Lucas Alexander

Women's bantamweight: Lucie

Pudilová

vs.

Ailín Pérez

Lightweight: Trey Ogden vs. Nikolas Motta

Flyweight: Charles Johnson vs. Rafael Estevam.
Find all the latest boxing news and MMA breaking updates on BoxingBlitz.
THANK YOU FOR CHOOSING boxingnews.COM