Would Pacheco Dominate Against Cyborg?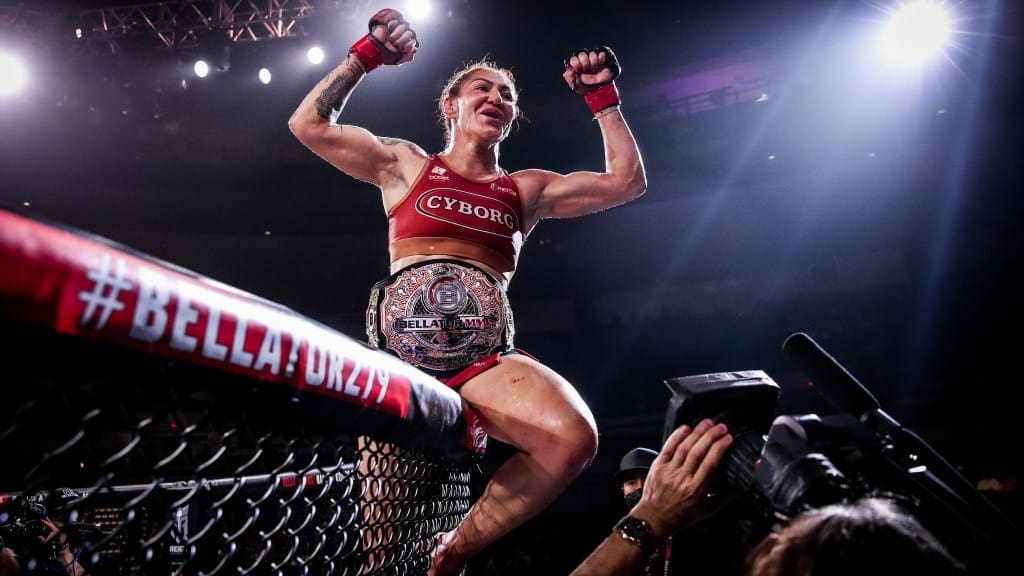 Larissa Pacheco is one of the contemporary stars of women's MMA, having defined success in the PFL, as she's set to fight in her third championship final later in the month. Given that she is Brazilian, comparisons will always be drawn to Cris Cyborg. Would Pacheco enjoy the same level of success if she fought her compatriot?
Multi-Weight PFL Champion?
Larissa Pacheco is embarking on her third PFL championship fight on November 24. Last year, she won the PFL Women's Lightweight Championship with her landmark victory over Kayla Harrison. In 2023, the PFL redefined their women's division to be a featherweight classification. No problem for the female Brazilian fighter, who has welcomed the change, having made it to the final again, beating Julia Budd and Amber Leibrock in the process. If she can defeat Marina Mokhnatkina, she'll become a multi-division PFL champion.
Cyborg Owned Featherweights
While Pacheco has only just transitioned back to featherweight, Cris Cyborg has been dominating the classification for multiple years now. Cyborg has also been at the heavier end of the scale for this division, which means she can impose her size and power on opponents. This led her to dominate ranks at Strikeforce and Invicta FC, and still leads the way in Bellator. Her career record is an awe-inspiring 27-2 (1), having only lost to the legendary Amanda Nunes and also her first-ever fight. There's no doubt that she would provide stern opposition to Pacheco.
Pacheco's Punch Power Could Provide Win
Few fighters can throw as many punches as Larissa Pacheco while keeping the momentum and power up. Her ability to consistently dish out strikes has allowed her to win multiple fights. Her 2023 playoff semi-final against Olena Kolesnyk lasted all of 14 seconds before the ref had to call it off. While she has won fights via submission, it's her strike game that has elevated her to a championship-grade fighter.
This would lead to an exceptionally interesting fight with Cris Cyborg, as she is also very confident in her punch power. She's won three of her last fights via stoppages from her fists. She's so well-versed in trading blows that she's embarked on a boxing career. To date, she's fought two boxing bouts and won them both, albeit both by decision. Should an MMA fight materialize, and the fighters want more, the power of their punches could lead to a future boxing match in what would make a fantastic cross-discipline rivalry.
Does Pacheco Deserve Another UFC Run?
It might not be common knowledge to most MMA fans other than Larissa Pacheco's super-fans that she's already fought in the UFC. She lost both fights, first to Jessica Andrade and then to Germaine de Randamie. That phase between 2014 and 2015 was relatively damaging for the fighter, so much so that she didn't fight for over three years, albeit with a few canceled bouts in there too.
Pacheco has told MMA news sites before that she wasn't entirely comfortable in the UFC. This was due to the weight divisions that Dana White's company operates for female fighters. She said that a lack of a lightweight division at that point in her career stunted her performance. However, she's since transitioned to the PFL's new featherweight classification and had success.
Given that the UFC does have a women's featherweight division, could she return? After all, Amanda Nunes has retired and left the title vacant. Surely, Pacheco would be a very marketable asset for the division to re-establish itself.
Cyborg shares the same feeling toward the UFC, as she's told MMA news websites that she didn't like her time in the UFC very much. She stated that she felt that the company failed to respect her and her fellow fighters on the roster. In comparison, she stated that the backroom management of Bellator was like a dream.
Age is Just a Number to Cyborg
Cris Cyborg doesn't seem to care too much about her advancing years. She keeps active across both her MMA and boxing pursuits even though she's almost 40. While some might say she's past her prime, it's hard to hold that with any credibility as she's still winning fights convincingly. If a fight were to take place against Pacheco, as long she's not closer to 50 by the time they square off, she'd have a chance of winning.
Could This Fight Ever Take Place?
Win or lose the final against Marina Mokhnatkina, Larissa Pacheco's career is far from over. She's only 29 years old, meaning there's a decent road ahead of her to make MMA breaking news, whether that's with the Professional Fighters League or elsewhere. After all, the UFC would be daft not to consider signing her if she wins a second PFL title.
On the other side of the hypothetical fight cage, Cris Cyborg is still very much active in the fight game, even if she's 38 years old. Despite taking 18 months out between fights, Cyborg returned to Bellator in October 2023 to defend the featherweight championship, a belt she's held since January 2020. Given that Bellator is subject to a potential violent takeover, it could be worth her exploring her options and potentially opening up about the reality of this fight happening.
Pacheco could, of course, join Bellator to fight for Cyborg's championship if the company is still operating…but the reverse is a lot more appealing. Cyborg, as the final Bellator featherweight champion, could enter the PFL and give the division a real facelift and upsurge in competition. A dual champion bout in the 2024 PFL final would simply sell itself. Of course, they could both just re-sign with the UFC, but that seems unlikely.
Find all the latest boxing news and MMA breaking updates on BoxingBlitz.
THANK YOU FOR CHOOSING boxingnews.COM