Would Laila Ali Been Undefeated in Taylor's Generation?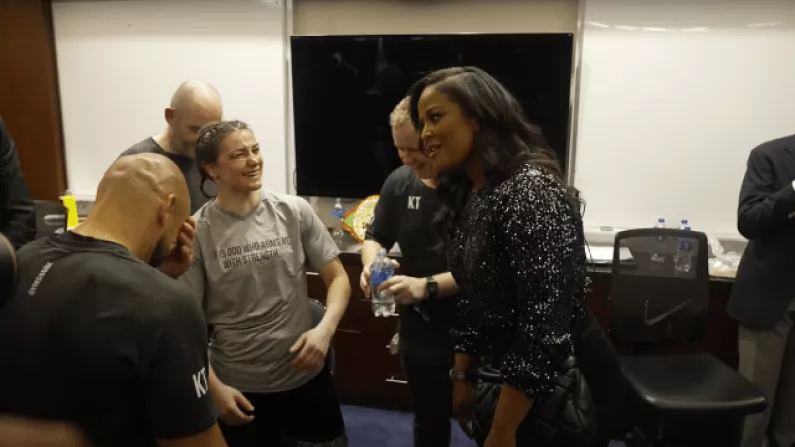 Katie Taylor will go down as one of the all-time greats in not just women's boxing but within the entirety of the sport. However, after that loss to Chantelle Cameron, she will not retire undefeated. So how would she have gotten on against Laila Ali, Muhammad Ali's daughter – who famously retired without a single loss, which was better than her dad's record?
Laila was an Original Trailblazer
Laila Ali wasn't indoctrinated into boxing, as many would assume from being Muhammad Ali's daughter. In fact, in the Muslim family household, Ali disapproved of her involvement in the sport at first. Laila, however, broke away from religion and forged her own career, which was shaped largely by seeing that the likes of Christy Martin could do exactly what her dad did. Her in-ring debut set the tone for a stellar undefeated career as she defeated April Fowler in 31 seconds by knockout.
She and Jacqui Frazier-Lyde (the daughter of Joe Frazier) made history by becoming the first two women to headline a PPV boxing event when they fought one another in June 2001. Laila won the fight via a majority decision in a landmark moment for women's sports.
That event was held in New York state, echoing similarities to the event 21 years later where Katie Taylor fought fellow trailblazer Amanda Serrano in the first boxing event at Madison Square Garden to be headlined by two women. An event which Laila subsequently applauded as she remarked on the tremendous journey that women's boxing has undergone to enter the mainstream.
And she Loved a Knockout
As mentioned above, her first-ever fight put down a marker on how her career would play out. She had 24 fights overall and won 21 by knockout. It was this aggressive style and power that led her to great success. She won the inaugural IBA super middleweight title, the WIBF light heavyweight championship, and countless other pieces of silverware. The three other fights in her career, she still won by decision – but interestingly, these were all non-title fights.
Taylor's Generation Represents a More Talented Field
It's an easy and lazy narrative to say that Laila Ali won so many fights because the opposition wasn't as good. Ultimately, Ali could only fight who was in front of her at the time. Yet, some of her opponents have since been described as novices. However, even the most ardent Laila Ali fan would have a hard time defending that Katie Taylor and her contemporaries don't present a wider spectrum of elite female boxers.
Katie Taylor, during her career, has had to overcome some pre-existing icons of women's boxing. Jessica McCaskill, Delfine Persoon, and Amanda Serrano topple the totality of all of Ali's opponents. Again, those opponents who fell at the feet of Laila were of their time when women's boxing was not as competitive or developed as the contemporary product. Praise should go to the Irishwoman for overcoming so many of the top athletes of her generation.
The Experience Could be Telling in Fantasy Bout
Should time travel ever come into existence and both prime athletes meet one another in the ring, then there are few attributes to consider, but Katie Taylor has the distinction of fighting a lot more than her adversary. Taylor amassed 18 gold medals in amateur boxing representing the Republic of Ireland from 2006 to 2014, which included her remarkable win at the 2012 Olympics in London. Add in her 23 professional fights and that her fights have typically gone on much longer in duration; she is much more experienced in boxing.
Add in her experiences from playing semi-professional soccer in the Irish league and even making 11 appearances for the senior international team. Taylor is arguably a more complete athlete than Ali and would be able to depend on that stamina to win the fight.
The booking and run-in to the fight might require some admin, with the fighters typically fighting within different weight classes. The media appearances would most likely be well-spirited, with neither fighter being particularly keen to trash-talk opponents.
Could this Fight have Actually Happened?
When studying the biographies of Leila Ali and Katie Taylor, there isn't that much of an age gap. Ali is currently 45 years old but has been retired since she was 29, having hung up her gloves in February 2007. By that time, Taylor had already won three gold medals on the amateur circuit. Taylor is now 37 years old, meaning that if Ali had stuck around a bit longer in the game, these two may have crossed paths at some juncture in a massive fight to define women's combat sports.
Knockout Against Points
It's been said that 'styles make fights.' Well, that's exactly what trending box news outlets would report in this fantasy Leila Ali against Katie Taylor bout. Ali would look to end the fight early with her fierce power. This would create an interesting dynamic as Taylor would evade the critical blows and look to score points, similar to her fight with Amanda Serrano. That's not to say that if Taylor didn't see a finish, she wouldn't take it.
Find all the latest boxing news and MMA breaking updates on BoxingBlitz.
THANK YOU FOR CHOOSING boxingnews.COM