Surprise Rematch Between Volkanovski and Makhachev Will Highlight UFC 294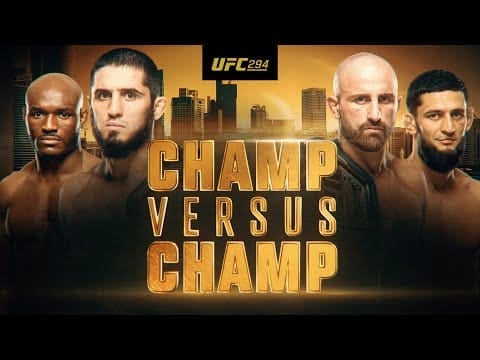 There has been so much news hitting the market about the UFC that it has been hard to keep everything straight. What may have been the most overlooked is how much work the UFC has had to do to save UFC 294 from falling apart. Looking at MMA breaking news, it shows that Paulo Costa and Charles Oliveira were both supposed to be part of the event.
But Costa revealed he had recent surgery and wouldn't be cleared to fight Khamzat Chimaev. Former lightweight champion Charles Oliveira was denied a shot at revenge against Islam Makhachev. Oliveira suffered an injury late in training and wasn't cleared by doctors to compete in UFC 294, set to take place Oct. 21 at Etihad Arena in Abu Dhabi, United Arab Emirates. But UFC CEO Dana White didn't panic.
He instead rebuilt the card by bringing in a pair of current and former championships to create matchups that should excite fight fans.
Volkanovski Again Attempts to be Two-Division Champion
Australian Alexander Volkanovski didn't mind taking on Islam Makhachev on 11 days notice. This was the opportunity Volkanovski had been chomping at the bit for. In February, Volkanovski attempted to become a two-division champion and took on Makhacehve at UFC 284 in Perth, Australia.
While Makhachev was a heavy favorite over Volkanovski, the Australian made the fight closer than anyone thought it could be. He proved he could handle Makhachev's wrestling and land strikes. During the fifth round, Volkanovski landed firm ground and pound to nearly finish the fight. 
While Makhachev won unanimously, some people on MMA breaking news sites suggested that Volkanovksi won. Some observers felt Makhachev didn't do enough with his takedowns to deserve the win. Volkanovski dominated Yair Rodriguez in July to defend his featherweight title.
Makhachev hasn't fought since he last took on Volkanovski. He is hoping to make his second successful title defense. Since coming into the UFC, Makhachev has compiled a 13-1 record in the promotion. Makhachev's lone loss in his MMA career came in his second fight, a knockout loss to Adriano Martins in October 2015.
Chimaev's Long Return Will See Him Fight Former Champion
Kamaru Usman has been one of the UFC's most successful welterweight champions. Before losing his last two fights to Leon Edwards, Usman had successfully made five consecutive title defenses. Once Costa pulled out, Usman decided to step in and fight Chimaev in a middleweight title eliminator.
Chimaev has been one of the UFC's most terrifying prospects. After debuting with the UFC in July 2020 and winning three fights in two months, Chimaev has only fought three times since. During Chimaev's last appearance, he nearly derailed the UFC 279 card by missing weight. 
When the smoke cleared, Chimaev was paired with Kevin Holland and submitted him in 2 minutes 13 seconds to move to 12-0 in his career. This fight will allow Chimaev to return to everyone's good graces and earn a title shot against Sean Strickland.
Usman lost his opportunity to regain his welterweight title by losing a decision to Edwards in the rematch. Edwards had captured the title by hitting Usman with a vicious head kick knockout in the fifth round. It will be interesting to see what Usman has left at a heavier weight class.
Johnny Walker No Longer a KO or Bust Prospect
Brazilian Johnny Walker has been on each side of a highlight-reel knockout of his career. However, Walker showed during his last fight against Anthony Smith that he has the patience to fight with discipline and not get caught going for a flashy finish.
Walker has now won three straight fights in the light heavyweight division. Walker hopes a big performance at UFC 294 against former title challenger Magomed Ankalaev will put him in the title picture. Ankalaev fought for the title but went to a split draw with former champion Jan Błachowicz.
The fight was so underwhelming that the UFC didn't earn a rematch. Walker is ranked No. 7 and has finished six of his seven UFC wins in the first round. Another one over No. 2 ranked Ankalaev will raise Walker's profile significantly.
Aliskerov Hopes to Keep Streak Going
Russian Ikram Aliskerov has won six straight fights since losing to Chimaev on the regional scene. He hoped to test his middleweight skill at UFC 294 by taking on ranked contender Nasourdin Imavov. However, Imavov withdrew due to issues with his visa.
Instead, Aliskerov will have to take on Brazilian Warlley Alves. Alves is 14-6 during his career but has lost his previous two fights. 
Nurmagomedov Wants to Make Quick Turnaround
Said Nurmagomedov will open the UFC 294 main card coming off a difficult loss to Jonathan Martinez. Nurmagomedov should be set up to have a good performance against Muin Gafurov. Gafurov debuted with the UFC in June, losing a unanimous decision to John Castaneda. 
Nurmagomedov is 17-3 in his career overall and has finished nine of his victories. Before his loss to Martinez, Nurmagomedov had won four consecutive fights. 
Grappling Matchup Highlights the Featured Prelim
Tim Elliott is a veteran flyweight fighter and former title challenger. Elliott's shot at the title, a decision loss to Demetrious Johnson, came nearly seven years ago. Since then, Elliott has been a durable but inconsistent fighter.
Now, Elliott will try to slow down the momentum of the undefeated prospect Muhammad Mokaev. Mokaev has won all four fights since joining the UFC's roster in March 2022. Mokaev has finished three of his four fights by submission to move to 10-0 on his career.
Elliott has won four of his past five fights to improve to 19-12-1. But Elliott will need to be on his toes to avoid being submitted. Here's a look at the other fights on the card:
Lightweight: Mohammad Yahya vs. Trevor Peek

Bantamweight: Javid Basharat vs. Victor Henry

Middleweight: Abu Azaitar vs. Sedriques Dumas

Lightweight: Mike Breeden vs. Anshul Jubli

Featherweight: Nathaniel Wood vs. Muhammad Naimov

Women's strawweight: Victoria

Dudakova

vs. Jinh Yu Frey

Middleweight: Sharabutdin Magomedov vs. Bruno Silva
Find all the latest boxing news and MMA breaking updates on BoxingBlitz.
THANK YOU FOR CHOOSING boxingnews.COM