Sterling Returns to Mats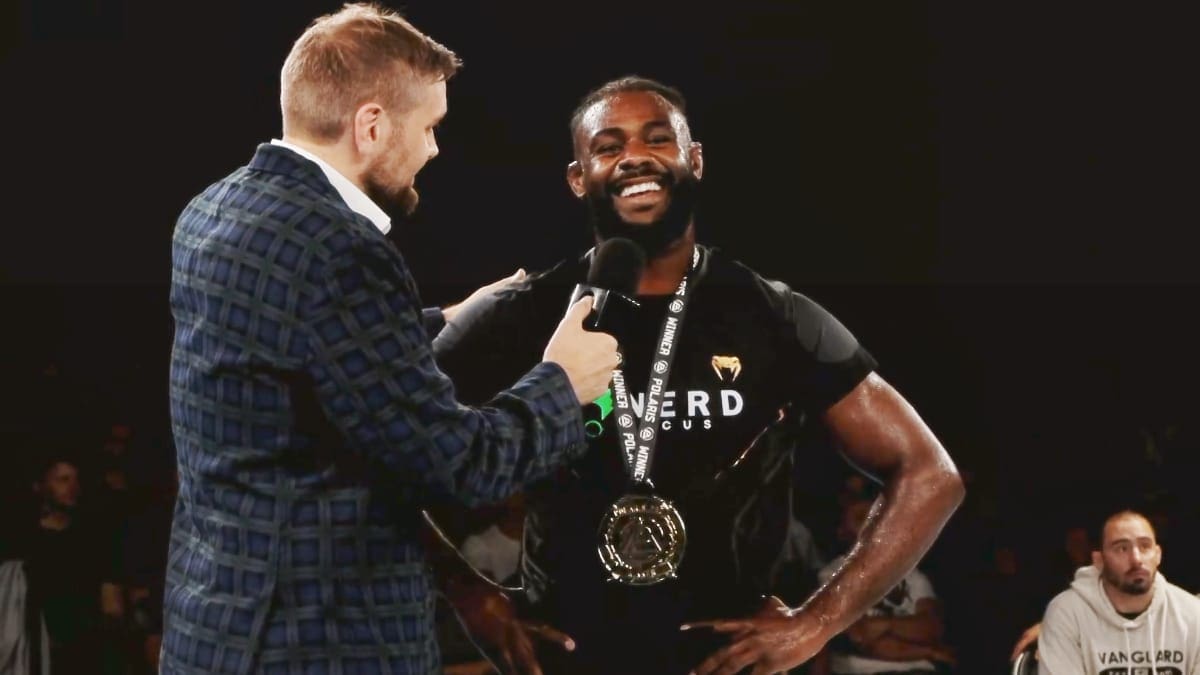 Losing a title fight can send someone spiraling. Former UFC Bantamweight champion Aljamain Sterling wants to stay active as he seeks another shot at the crown. With the UFC being slow to decide what's next for the bantamweight division, Sterling decided to look elsewhere for competition.
Sterling was able to get some work in late September when he traveled to Wales to take on Mike Grundy in a Brazilian jiu-jitsu match. After Sterling's win, he took time during his interview to call out current champion Sean O'Malley. Mixed martial arts fans have mixed opinions about Sterling's career and title reign.
No one would likely question that Sterling is an impressive grappler with firm credentials. But how Sterling became champion and his subsequent reign was a disappointment. A few of his title fights were marred by split decisions and bizarre victories. When Sterling defended his title against T.J. Dillashaw, it was revealed afterward that Dillashaw was severely compromised before the fight started and likely should have pulled out.
While Sterling didn't do anything wrong, his reputation with the public may make his road back to a title fight harder. For now, Sterling just has to sharpen his skills and see how things shake out with O'Malley. The UFC has been criticized for having a lot of rematches in title fights and may want to go in a different direction.
Who is Aljamain Sterling?
The "Funkmaster" is a long-time UFC fighter who was born in New York City to Jamaican parents. Sterling went on to be a two-time Division III All-American wrestler at Morrisville State College in New York. After finishing college, Sterling started with professional MMA in 2011.
After winning his first eight professional fights, Sterling debuted at UFC 170 by scoring a decision win over Cody Gibson. Sterling would earn his first title shot at UFC 259. He would end up winning the title by disqualification. The Russian champion, Petr Yan, hit Sterling with an illegal knee while he was grounded.
Sterling couldn't continue, and he was awarded the championship by DQ. This turned a segment of the MMA community against him. Some believed Yan shouldn't have lost the belt by DQ, while others believed Sterling faked the injury.
Sterling defended the championship three times, including a split-decision win over Yan, before taking on O'Malley at UFC 292. O'Malley would score a TKO victory in the second round, thanks to punches. With how the fight went down, O'Malley made clear he has little interest in a rematch.
Polaris Comes Calling
Wallowing in his own misery wasn't going to be Sterling's recovery plan. What Sterling wanted was to find high-end competition to get him back on his feet. He got an invite from Polaris Pro Grappling to compete against English grappler Nathaniel Wood.
However, Sterling's bout with Wood was quickly scrapped. The UFC found Wood an opponent for a UFC card in October, and he had to pull out. Instead, Sterling was paired up with former UFC fighter Mike Grundy. Grundy was cut from the UFC after losing three consecutive fights following his debut. 
A Mostly Plodding Affair
Sterling and Grundy barely hit the mat during their 10-minute grappling affair. Both grapplers fought for control and utilized a lot of hand fighting. When it came to the match, it seemed that both Sterling and Grundy were trying to bait the other grappler into making a mistake. Neither was able to catch the other person napping. 
Fans were likely hoping for more from Sterling. Grundy was able to prevent Sterling from getting much offense in, but Sterling was able to get into superior positions. Sterling would get his hand raised for a decision. 
Trying to Get O'Malley's Attention
Sterling has been lobbying for a rematch against O'Malley since he lost in August. But it doesn't appear that a rematch will be happening immediately. There are rumors that O'Malley may battle Chito Vera, who handed O'Malley his only MMA loss, next. While there are plenty of willing challengers, the UFC is looking for one that will sell an event.
After beating Grundy, Sterling called out O'Malley in his interview. He said that O'Malley needs to stop ducking him and No. 2 contender Merab Dvalishvili. Dvalishvili is coming off a win over former champion Petr Yan. Sterling has been criticized for his relationship with Dvalishvili.
The two are close friends, and Sterling said he would never fight Dvalishvili as champion. Dvalishvili felt the same way. UFC President Dana White was disappointed with their comments. White believes any two fighters should be willing to fight for a belt, and friendships don't matter.
Sterling Makes Sense if UFC Wants Rematch
Sterling calling out O'Malley makes sense. He wants revenge, sure. But there's also no one else that has separated themselves from the back. No. 3 contender Henry Cejudo has juice as a former two-division champion but lost to Sterling via decision for the title already.
No. 4 contender Yan has lost four of his last five fights. Two of those losses came to Sterling, and one came to O'Malley. Cory Sandhagen has wins over top 10 bantamweights Rob Font, Song Yadong, and Marlon Vera but was submitted by Sterling in 88 seconds during their meeting in June of 2020.
It is likely that Sterling will get a rematch at some point. This may be a case where Sterling has to have another fight first, but Sterling will be one of bantamweight's top contenders if he stays in the weight class. Before Sterling lost to O'Malley, there were rumors swirling that Sterling would bump up to fight Alexander Volkanovski.
The loss to O'Malley took the wind out of Sterling's sails for being a two-division champion. There will be a lot of interesting decisions ahead for Sterling.
Find all the latest boxing news and MMA breaking updates on BoxingBlitz.
THANK YOU FOR CHOOSING boxingnews.COM