Song Yadong Will Highlight UFC's Return to China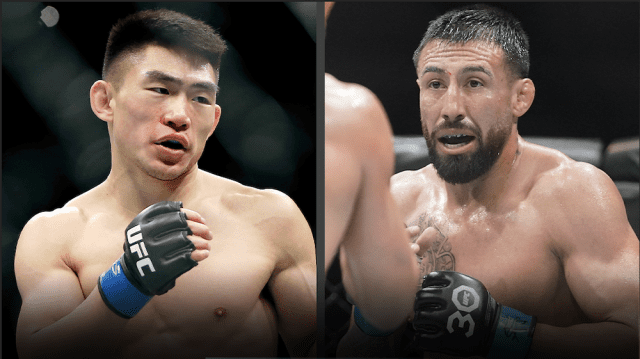 The UFC is returning to normal after the COVID-19 restrictions have started easing up. While the UFC was stuck in the Apex in Las Vegas due to being unable to host large crowds, there weren't any main live events held worldwide. But on Dec. 9, the UFC will return to Shanghai for the first time since 2017.
Chinese fighter Song Yadong was initially slated to fight another top bantamweight contender, Petr Yan. However, Yan was forced to withdraw due to an injury and was replaced by Chris Gutierrez. The UFC has finally started to announce many of the main events that will take place over the next few months. The Chinese card with Yadong was originally set up as an opportunity for Yadong to build his profile against a top 10 fighter; now, he will take on the dangerous striker Gutierrez.
Their fight will be an interesting one. Both prefer to stay and battle on in the fight, but both men have radically different approaches to striking. One man will have to try and impose his will and style on the other to grab a victory.
Yadong Has Made Waves With His Power
Yadong is regarded by many as the top male Chinese fighter in the UFC. What has raised Yadong's profile is his frightening knockout power. During Yadong's last fight, a knockout of Ricky Simón in Las Vegas, the Chinese superstar proved his stopping power isn't limited to early in fights.
Yadong knocked the American out in the fifth round to improve to 20-7 in his career. Yadong has nine knockout victories during his career. While Yadong lost to Cory Sandhagen by doctor's stoppage in September 2022, he has won four of his past five nights. The latest MMA news shows that streak includes knockout wins over Marlon Moraes and Julio Arce. 
Yadong also has a win over Marlon Vera, who will challenge bantamweight champion Sean O'Malley for the title early next year. Fighting Yan would have given Yadong an opponent that could push him into the little picture. Yadong is ranked No. 7 in a crowded group of contenders and could use another win to stand out.
Yadong, who is 20-7-1, has proven during his last two fights, which were both main events, that he could last beyond three rounds. While Yadong will likely hope he can force a stoppage before then, it has to give him confidence that his cardio can hold up beyond that.
Gutierrez Has a Not-so-Secret Weapon
MMA latest updates show that few fighters have mastered one of their critical MMA innovations quite like No. 13 ranked Gutierrez. He is one of the most proficient fighters in UFC history at throwing leg kicks. In fact, Gutierrez has won three fights in his career by knocking his opponent out with an accumulation of leg kicks.
He has only done that once in the UFC, defeating Vince Morales by leg kicks in May 2020. Including his loss to Raoni Barcelos on The Ultimate Fighter Finale in November 2018, Gutierrez has compiled an 8-2-1 record during his time in the UFC.
Fighting Yadong will represent a big step up in competition for Gutierrez. Most of the top fighters Gutierrez has fought during his time in the UFC were older veterans. Gutierrez knocked out former champion Frankie Edgar, who was well past his prime, during UFC 281 in November 2022. He then lost his next fight to veteran Pedro Munhoz.
Road to UFC Season 2 Winners to Take Place
In addition to the Yadong-Gutierrez fight, this event will showcase the four finals of the Road to UFC Season 2. The Road to the UFC has been an event to help get international fighters a road to the UFC through a tournament-style format. There are four weight classes — flyweight, bantamweight, featherweight, and lightweight — and eight fighters compete in each bracket looking for a contract.
Indian fighter Anshul Jubli, who won the Season 1 Lightweight tournament, recently debuted on the UFC main card. Jubli, who was 7-0 entering his fight against Mike Breeden, would end up getting knocked out in the third round. Breeden came into the fight 3.5 pounds overweight.
Weili Has Put Chinese MMA on the Rise
The hottest fight in women's MMA yet to be booked is a likely bout between two Chinese strawweight fighters. Zhang Weili is the top strawweight and has now defended her title once during her current reign. Weili, who is 24-3 during his career, last defended her title with a dominant decision win over Amanda Lemos at UFC 292. 
Many fans have been clamoring to see Weili fight countrywoman Yan Xiaonan. Xiaonan, who is 17-3 during her career, has moved up to No. 3 in the strawweight rankings following consecutive wins over top-ranked fighters Jessica Andrade and Mackenzie Dern. While the UFC couldn't get Weili scheduled on a fight night, the pair will likely square off in a card in China sometime in the future.
Plenty of Local Flavor on Yadong Card
Usually, for international fight cards, the UFC tries to fill out the card with a lot of up-and-coming fighters. Especially for a card that will see the promotion's return to China, the UFC will try to get a lot of Chinese fighters to compete to help build interest in the region. Here are other announced bouts for the card, though these are all subject to change.
Light heavyweight: Zhang Mingyang vs. Brendson Ribeiro

Flyweight: Su Mudaerji vs. Allan Nascimento

Middleweight: André Muniz vs. Park Jun-yong

Lightweight, Nasrat Haqparast vs. Jamie Mullarkey

Flyweight: Hyun-sung Park vs. Shannon Ross

Flyweight: Tatsuro Taira vs. Carlos Hernandez

Flyweight: Rei Tsuruya vs. Ji Niushiyue

Bantamweight: Xiao Long vs. Lee Chang-ho

Featherweight: Yi Zha vs. Li Kaiwen

Lightweight: Rong Zhu vs. Shin Haraguchi
Find all the latest boxing news and MMA breaking updates on BoxingBlitz.
THANK YOU FOR CHOOSING boxingnews.COM