Shakur Wants Canelo Vs. Crawford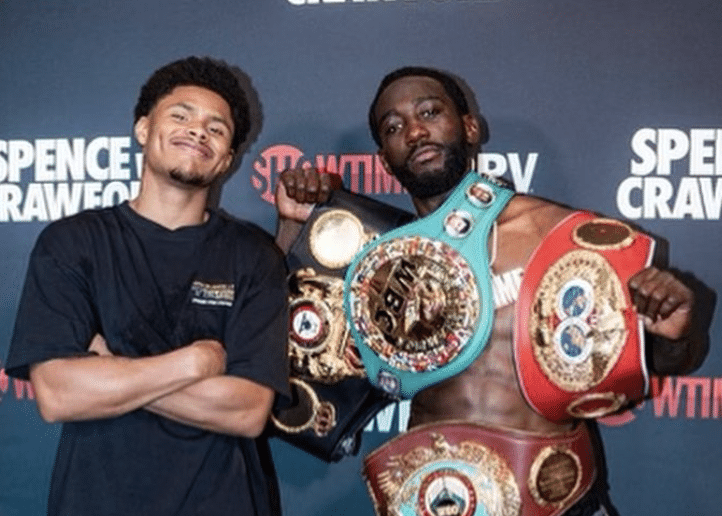 In some recent boxing news, Terence Crawford should face the winner of Canelo Alvarez against Jermell Charlo. 
That is according to Shakur Stevenson. Following Crawford's win over Errol Spence Jr, Bud called out Alavarez for a fight at 168 pounds.
Crawford's intentions are to become undisputed in a third weight class and go down as one of the best of all time. As of now, Crawford is the WBO super champion at 147, giving him the right to fight for a title at 154 if he decides to move up.
However, by going into an undisputed fight at 168, this would result in Bud going ahead of the division's other fighters including David Benavidez.
The latter has been mandatory for over a year. And yet, there is no denying that it is the biggest fight out there which is why Shakur wanted to see it happen. 
Shakur On Canelo-Crawford
"I would like to see Bud [Crawford] against the winner of Canelo & Charlo. I think that would make more sense just because they have the accolades, and everything matches up perfectly fine with them. He's [Canelo] 5'8″. Honestly, I've been saying that for years. Ever since the Shawn Porter fight, I've been saying that Bud would beat Canelo. That's just my opinion. 

"I've seen Bud in the gym, and that's the difference. I have seen him get in there with heavyweight fighters, and he's hurting them. I've seen him wobble them, so I know his power transition in the higher-weight classes. So that's what it really comes down to, and he's got the skills. 

"He has everything to hold his own against a Canelo Alvarez, and when it comes down to who is the better fighter, and I look at those two, I think Bud Crawford is the better fighter," Stevenson 
Crawford's Goals
If Crawford does manage to secure a fight against Canelo, provided that latter beats Charlo, there is a chance that it could be the last of his career.
Being undisputed in a third weight class would cap off a remarkable career. Meanwhile, expecting Crawford to then drop back down or to defend his titles against the other big hitters in the division such as Benavidez is unlikely.
So provided that there is enough demand and a willingness to make it happen on both sides, boxing fans could be in for a treat. 
And given Canelo's previous comments about the fight, the boxer has not ruled it out provided that it makes sense. His following comments confirmed as much.
"At the end of the day, I don't wanna have credit to face Crawford, but you never know in boxing. It's possible, why not? It's possible. If it makes sense, I'm down to do it. I don't care who is there, I'm always able to fight anybody," Canelo
As of now, Canelo must get past Charlo while Crawford is expected to face Spence in the rematch. And if both fighters come out victorious, then the calls for the fight will only increase.
Find all the latest boxing news and MMA breaking updates on boxingblitz.
THANK YOU FOR CHOOSING boxingnews.COM