Pereira and Aspinall Capture Gold With Dominant Finishes at UFC 295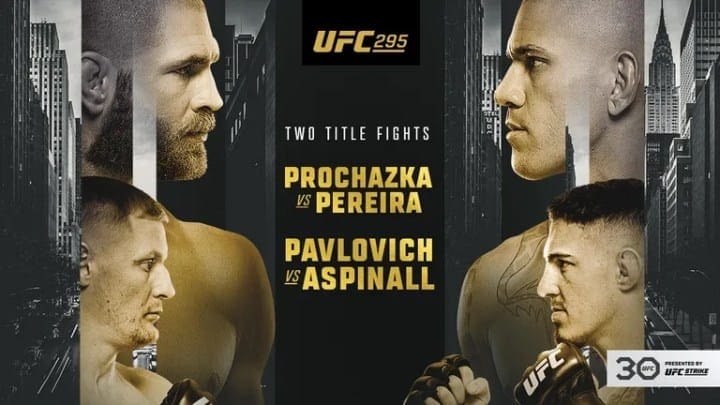 "The World's Most Famous Arena" produced an incredible night of MMA for UFC 295 on Saturday at Madison Square Garden. When Marc Goddard waved a stop to the Alex Pereira vs. Jiří Procházka fight in the second round, it wrapped up a wild fight card that set up critical storylines for the UFC. The latest MMA updates show that all five fights on the main card of UFC 295 ended via knockout.
Alex Pereira became the ninth two-division champion in the promotion's history by winning the light heavyweight championship. Tom Aspinall became the third British champion in UFC history by laying waste to Sergei Pavlovich in the first round. There were a lot of fireworks up and down the card. Here's a look at some notable events from Saturday night.
Procházka Puts End to Any Controversy
The fight between Pereira and Procházka ended with a wild sequence. Pereira rocked Procházka with a punch along the cage. Procházka shot for a takedown, which Pereira responded to with a series of heavy elbows that sent Procházka falling backward. When Procházka hit the mat, Goddard quickly waved off the fight.
Some MMA news sites and the commentators on the broadcast suggested the fight was stopped too early. However, Procházka said in his post-fight interview that the right decision had been made and that he was out. It was honorable talk from a man who holds the sport in high regard.
Procházka, the former champion, had been off for nearly two years after he suffered a shoulder injury in training after beating Glover Texeira for the title. Texeira was in Pereira's corner during the Procházka fight on Saturday.
Aspinall Makes Quick Work of Pavlovich
The only thing that has stopped Aspinall in the UFC is his own body. After beating Pavlovich to win the championship, Aspinall improved his record to 7-1 in fights in the UFC. Aspinall's lone loss was when he suffered a knee injury 15 seconds into his fight with Curtis Blaydes in July 2022.
While Aspinall briefly considered quitting after the knee injury, he didn't let that thought linger too long. Aspinall originally made his return when he knocked out Marcin Tybura in July of this year. When it came to winning the championship, Aspinall did his best to avoid the power punching Pavlovich. While Pavlovich appeared to land heavily against Aspinall early in the first 30 seconds, Aspinall quickly recovered.
Aspinall would land a big shot on Pavlovich's temple, sending him to the canvas. Aspinall would only need a few follow-up shots to win his first title in 1 minute and 9 seconds. There will be a wait to see what is next for Aspinall, the interim champion. Current heavyweight champion Jon Jones got hurt training for a fight with Stipe Miocic. Jones' timeline for a return is uncertain, so Aspinall may be elevated to full-time champion before Jones returns.
Andrade Shows She's Not Done Yet
Former strawweight champion Jessica Andrade had lost three straight fights, being finished in her three, entering Saturday night. Andrade was a heavy underdog to Mackenzie Dern, who had never been knocked out. But Dern quickly found that her striking was on par with the former champions.
Dern, a BJJ expert, couldn't get Andrade down on the mat. That's where Dern's troubles started. Andrade was willing to hang out in the pocket and exchange with Dern. What ended up happening was Andrade sent Dern spilling to the mat several times in the second round. While Dern invited Andrade to the carpet when she was knocked down, Andrade made Dern stand up. When Dern got back to her feet, Andrade hit her with another combination, dropping Dern along the cage for a knockout late in the second round.
Saint-Denis Honors Veterans with Vicious Head Kick
Benoit Saint-Denis spent time in the 1st Marine Infantry Paratroopers Regiment, a unit for the French Army Special Forces Command. While Saint-Denis, 27, started training in MMA later than many of his opponents, he hasn't shown too much inexperience in the cage.
Saint-Denis has won five straight fights in the UFC since losing his debut against Elizeu Zaleski dos Santos. On Veteran's Day, Saint-Denis fought Matt Frevola, who served in the United States Army Reserve. Saint-Denis would end up winning the fight just 91 seconds in. Saint-Denis landed a head kick along the cage and hit Frevola once on the ground to put him out cold.
Lopes Continues to Build His Legeacy
Diego Lopes has started to build his resume as an up-and-coming featherweight. Some people thought that his fight at UFC 295 may see him held down by Pat Sabatini, a strong wrestler. But that's not how the fight went.
Lopes clipped Sabatini with a strong shot that sent him stumbling backward. He then followed up with heavy punches that put Sabatini out along the cage. Lopes has now won two straight fights.
Rębecki
Takes Care of Short-Notice Opponent
Polish fighter Mateusz Rębecki had to take on a short-notice opponent in Roosevelt Roberts at an agreed catchweight of 158 pounds. After earning a contract on Dana White's Contenders Series, Rębecki showed why he was such a heavy favorite. Rębecki controlled the fight with Roberts with his wrestling.
Rębecki would end up securing a win via armbar in the first round. Here's a look at the results of the fights not mentioned above.
Flyweight: Steve Erceg won by decision Alessandro Costa, 29×28 x3

Women's strawweight: Loopy Godinez won by split decision over Tabatha Ricci, Ricci 30-27, Godinez 29-28 x2

Lightweight: Nazim Sadykhov majority draw Viacheslav Borshchev, 29-28 Borshchev, 28-28 x3

Lightweight: Jared Gordon TKO Mark Madsen, Round 1 4:42

Catchweight: John Castaneda won by decision Kang Kyung-ho, 30-27×3

Flyweight: Joshua Van won by a decision Kevin Borjas, 29-28×3

Catchweight: Jamall Emmers TKO Dennis Buzukja, Round 1:49
Find all the latest boxing news and MMA breaking updates on BoxingBlitz.
THANK YOU FOR CHOOSING boxingnews.COM