MMA Fantasy Fights: Trailblazers Cyborg and Rousey Should Have Settled Differences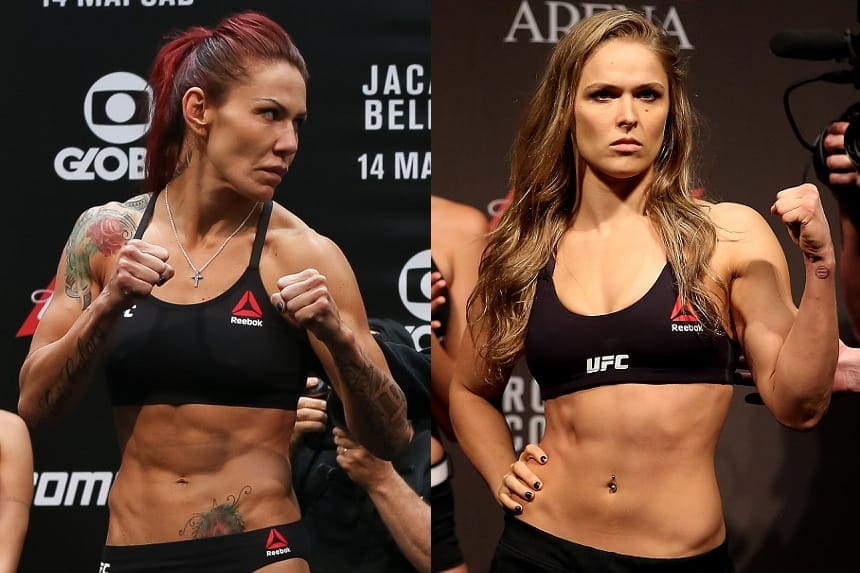 Being a pioneer in the age of the internet and social media is likely tricky for those trying to blaze a trail. Cris Cyborg and Ronda Rousey were two women fighting for respect in a sport that didn't necessarily want to see women fighting at the highest level. Despite being involved in the same fight for respect, neither seemed to have much love for one another. 
Cyborg, 38, is still the Bellator women's featherweight champion. The Brazilian turned professional in 2005, but despite her dominance, she didn't reach one of the largest MMA promotions until 2016, when she fought for the UFC. Rousey, who was the bantamweight champion in the UFC, became the woman that UFC CEO Dana White chose to back as the promotion's first star of women's MMA.
Both regularly sniped at each other in the press, but a fight never happened for many reasons. Here's a look at how that could have gone had they worked out their differences.
Rousey Changes the Game
As an amateur athlete, Rousey made her name with an excellent judo background. She became the first American woman to medal at the Olympics by earning the bronze medal at the 2008 Beijing Olympics. After the Olympics, however, Rousey hit tough times.
Without much income, Rousey worked several jobs and even fought men in parking lots to earn extra money. In 2011, Rousey was introduced to mixed martial arts. Once Rousey made the regional scene, many MMA news sites heard about her style.
Leaning heavily on her judo, Rousey used her signature armbar to dominate many of her less experienced opponents. She soon went to Strikeforce, an MMA promotion purchased by the UFC, where she became the bantamweight champion in 2012 by submitting career rival Miesha Tate by armbar in the first round.
When the UFC later purchased Strikeforce as part of a business deal, the promotion decided to structure a weight class around Rousey.
Cyborg Was One of Sport's First Dominant Forces
There is no mistaking that Rousey helped make women's MMA more mainstream. But Cyborg was one of the women who got in on the ground floor. After debuting with a loss in a regional promotion in 2005, Cyborg would start a 20-fight winning streak that spanned several promotions. 
Unlike Rousey, who was lauded in the media and earned roles in movies and TV due to her looks, Cyborg was derided by many in the sport for being a drug cheat. During Cyborg's time in Strikeforce, in 2011, she was stripped of the featherweight championship for testing positive for stanozolol. She also faced a lot of ugly rumors questioning her gender altogether.
But Cyborg never let anything outside the octagon impact her performance. She would win the featherweight championship in the all-female promotion Invicta FC before signing with the UFC in 2016. She would also capture the featherweight title in the UFC as well.
Cyborg Wanted Rousey Fight; UFC May Never Have
A central sticking point in a potential bout between Cyborg and Rousey was what weight they would fight at. Cyborg fought nearly all of her career at Featherweight, which is 145 pounds. Rousey was in the 135-pound bantamweight division.
Cyborg believed that once she signed with the UFC, the promotion never wanted to make the fight. She believed the UFC was more interested in protecting Rousey's star power. However, by the time Cyborg made it to the UFC, Rousey's star power had faded a bit.
In November 2015, Rousey was knocked out with a vicious head kick by Holly Holm. It snapped a 12-fight winning streak to start Rousey's career. Rousey would only fight one more time, a 48-second knockout loss to Amanda Nunes at UFC 207.
Cyborg also had her mystique shattered a bit by Nunes. Nunes went up to 145 pounds and knocked out Cyborg in 51 seconds at UFC 232 to take the featherweight title away from Cyborg. Despite clamoring for a rematch, Cyborg would win a fight over Felicia Spencer at UFC 240 in 2019 before being released.
Cyborg went to Bellator and beat UFC champion Julia Budd to win the featherweight championship. She has defended the title five times.
Rousey's Comments About Cyborg
Rousey never shied away from criticizing Cyborg. She would criticize Cyborg's PED usage despite also saying she would fight Cyborg in the cage. However, Rousey wouldn't agree to go up to 145 or do a catchweight bout. 
Rousey would only fight Cyborg at 135 pounds. However, Cyborg couldn't safely make 135 pounds. People following MMA breaking news will see the Cyborg accused Rousey of running from her and not wanting to take on a challenge. While White did say publicly several times that Rousey wanted the fight, Cyborg doesn't believe he tried to make the fight happen.
Cyborg hasn't given up on fighting Rousey, who moved on to professional wrestling. She has made several posts on X, formerly known as Twitter, about the former MMA star. One featured an image of Cyborg spanking Rousey on a rocking chair.
Who Would Win?
These are two of the most notable stars in women's MMA history. Rousey is more of a pioneer in the traditional sense. She came into power because she had one skill, her judo, that few women in the early days of MMA knew how to handle.
That skill advantage allowed Rousey to set up her armbar against many overmatched opponents easily. While Cyborg has trained in Brazilian jiu-jitsu, she is not a grappler. Cyborg always leaned on her tremendous striking to pick up wins. Cyborg only has one win by submission in her 29-fight career, while knocking out 21 opponents.
In a potential bout between the two, Rousey would have to get the action to the mat quickly if she wanted to win. Both Nunes and Holm prevented the takedowns and quickly exposed Rousey's striking. Cyborg is a fighter who has evolved her striking well enough to still be relevant 18 years into her career.
Even if they fought during the peak of their power, Cyborg would likely finish this fight with a KO. Rousey never saw the judges scorecards in her 14 career fights, which was a large part of her appeal. This fight wouldn't make it there either.
Find all the latest boxing news and MMA breaking updates on BoxingBlitz.
THANK YOU FOR CHOOSING boxingnews.COM