MMA Fantasy Fights: Jones vs Lesnar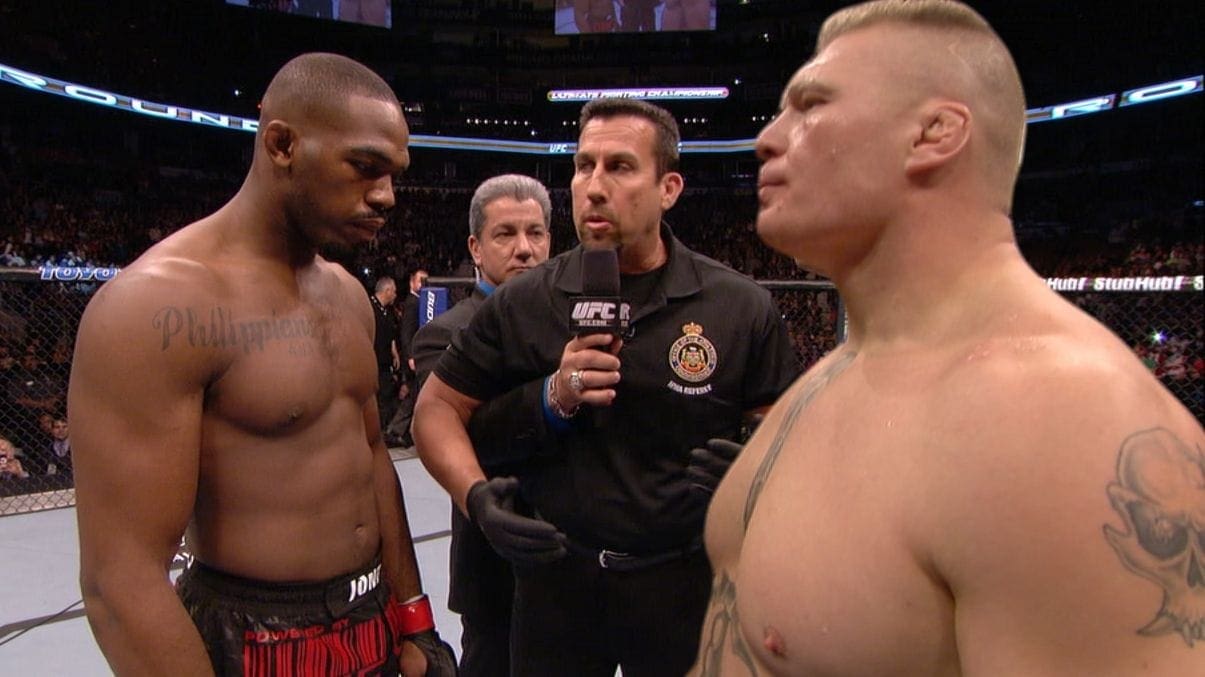 Jon Jones won the UFC Heavyweight championship by bullying Cyril Gane on the mats. Jones shot for an early takedown, dragged him to the ground, and was able to get him to submit in the first round. While many wondered how Jones would handle the jump from light heavyweight to heavyweight at age 36, many MMA news sites marveled at how quickly Jones got the job done.
While Jones has yet to defend the heavyweight crown, it is interesting to consider how he would have stacked up against previous heavyweight champions. Jones will test the theory in his next fight against Stipe Miocic, but it is interesting to think about how Jones would have done against Brock Lesnar.
Lesnar's time in the UFC was brief. He started his career late and had health issues that prevented him from fighting long-term. Here's how we think that fight may go.
Jones' MMA Resume is Unparalleled
Sometimes, fighters found themselves caught watching the sport pass them by. Fighters from the early days of MMA, who largely relied on one hyper-specific skill to win, would have a difficult time surviving in today's sport. But Jones hasn't hit any in-cage speed bumps during his career.
Jones' only loss came on a disqualification against Matt Hammill in 2019 for using illegal elbows. This referee's decision was heavily scrutinized by the MMA community, according to MMA news sites. But Jones shook that off quickly and would win the light heavyweight championship in 2011.
As an amateur athlete, Jones was a state champion wrestler in high school. He also won a junior college national wrestling championship at Iowa Central Community College.
Drugs Abuse Slows Down Jones
Jones' issues outside the octagon started in 2012. He was arrested for driving under the influence. He would later be accused of battery by a waitress in 2019 for allegedly slapping her, placing her in a choke hold, and kissing her. Jones would later plead no contest to these allegations.
Jones was also arrested in March 2020 for DWI, negligent use of a firearm, and driving without insurance. During his time with the UFC, Jones had to be stripped of his light heavyweight title twice. Jones was stripped once for failing a drug test and another time for violating the athlete conduct policy.
Lesnar Was a Genetic Freak
There wasn't much Brock Lesnar didn't try during his athletic career. Lesnar was a two-time All-American wrestler during his career at the University of Minnesota. In 2000, he won the heavyweight championship in St. Louis.
Once leaving college, Lesnar decided to try professional wrestling. He would end up finding a long-term home in the WWE. Lesnar became the youngest wrestler in promotion history to claim the top title. He would stay in the WWE until the end of 2004. Lesnar would then try to make the roster of the Minnesota Vikings football team as an offensive lineman.
Lesnar hadn't played football since high school and didn't make the cut. After a few years doing professional wrestling in Japan, Lesnar turned his attention to MMA.
Lesnar's MMA Career Was Short but Impactful
Someone with Lesnar's star power was always going to rush up the rankings. After one fight on the regional scene, Lesnar was signed by the UFC. Lesnar showed he was still green, having one point deducted for illegal strikes before losing 90 seconds in by submitting to a kneebar by Frank Mir.
Lesnar would be called on to fight for the heavyweight championship in August 2008. He took on two-division world champion Randy Couture and won by TKO in the second round. Lesnar was able to secure the win by utilizing his wrestling to get the fight to the mat and finishing things off with brutal ground and pound.
Lesnar would defend his championship twice. He finished Mir in a similar fashion to Couture with second-round ground and pound. He would then submit Shane Carwin for his only career win by submission. Lesnar lost the title at UFC 121 when he was knocked out by Cain Velasquez.
Lesnar lost his follow-up fight at UFC 141 by TKO to Alistair Overeem. Lesnar has only fought once since his loss to Overeem, a decision win over Mark Hunt at UFC 200, despite many rumors of a comeback.
Lesnar's win over Hunt was later overturned due to a no contest after Lesnar failed a drug test.
How Would These Two Matchup?
Jones is an interesting matchup for Lesnar, as he isn't the most powerful striker. Jones is a fighter who relies on his impressive versatility and ability to grapple to keep opponents on their toes. Not that Jones isn't capable of spectacular knockouts.
Jones, who is 27-1 in his career, has ten wins by knockout and seven by submission. The biggest question for Lesnar would be if he could take Jones down. Jones is a capable wrestler in the octagon. While he isn't as decorated as Lesnar at the amateur level, you also aren't allowed to throw punches or elbows in a wrestling match.
If Lesnar scored a takedown, it would be difficult for Jones to get up. Lesnar was the master at ground and pound. Who would win this fight would come down to whether Lesnar decided to get involved in the sport earlier or not.
The early days of UFC saw the promotion being not too financially stable. Lesnar was drawn to the promotion by the money. The UFC was also willing to give Lesnar a higher platform because his pay-per-views are still among the top selling in the sports history.
Jones would likely win this fight due to his dedication and long-term commitment to the sport. Lesnar struggled to strike, and his lack of experience caught up with him. But it would be a heck of a spectacle.
Find all the latest boxing news and MMA breaking updates on BoxingBlitz.
THANK YOU FOR CHOOSING boxingnews.COM