How Would Ngannou Approach Lesnar?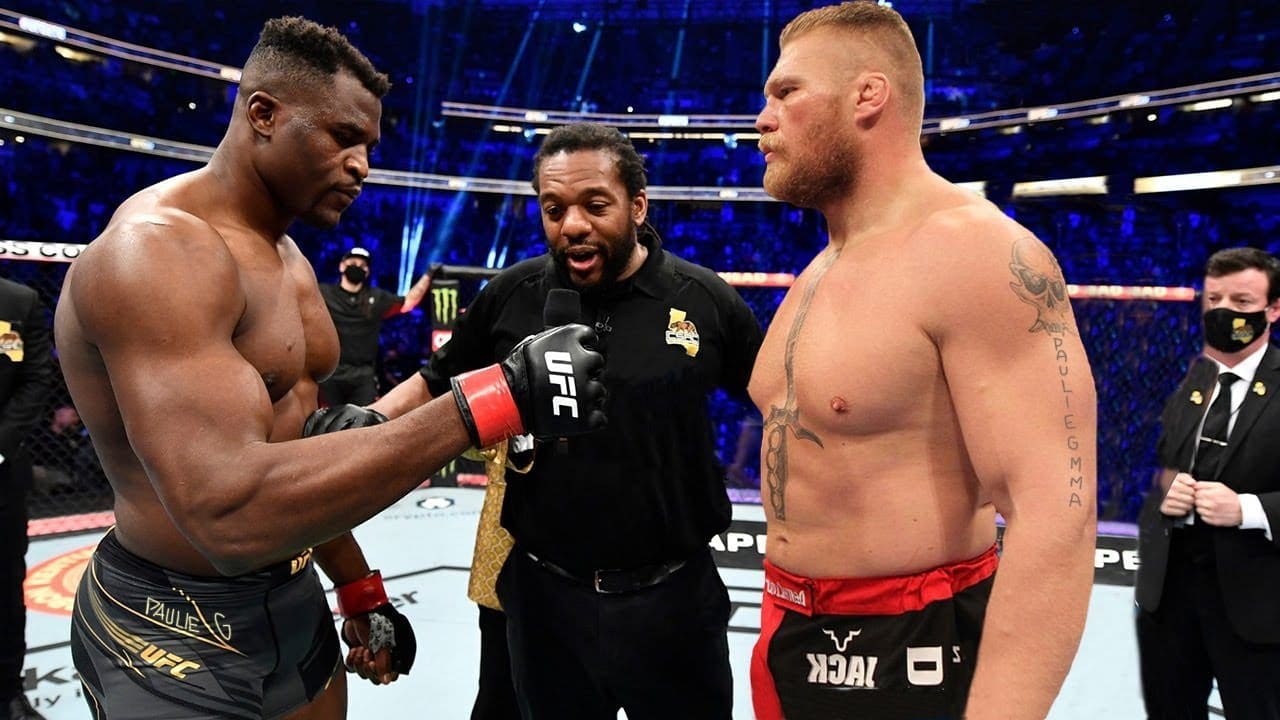 Francis Ngannou made a stellar debut in his boxing career as he forced Tyson Fury to go the distance and only lost on a split decision. Yet, if times were slightly different, he could have been fighting another heavyweight juggernaut. Just how would Ngannou have got on against the Beast Incarnate, Brock Lesnar?
Could Ngannou's Strikes Succeed?
Francis Ngannou's fists are lethal weapons. In the UFC, he ended the majority of his fights with them, including five of his last six. In fact, during the latter end of his run in the promotion, his bouts seldom went past the first round as his powerful attacks would simply finish contests. Curtis Blaydes, Cain Velasquez, and Jairzinho Rozenstruik all lasted less than a minute against Ngannou. More recently, he made trending boxing news by knocking down Tyson Fury in his professional boxing debut.
Could he bully Brock Lesnar in the same way? Brock only lost three fights in his MMA career (granted, he only had nine bouts), and the last two came by way of successive strikes against his opponent. Both Cain Velasquez and Alistair Overeem defeated Lesnar this way, which ultimately led to Lesnar leaving the sport. As such, it depicts a clear image that the Cameroonian striker could defeat Lesnar with his offense.
Would Lesnar be Shocked by Ngannou's Wrestling?
One of Francis Ngannou's losses came against Stipe Miocic when the two men fought for the first time back at UFC 220 in January 2018. The fight went the full five rounds as Miocic retained the UFC Heavyweight Championship. Ngannou was criticized for not having any answers for his opponent's wrestling and grappling strategy, as the Cameroonian spent large parts of the fight on his back. This would, of course, play into Lesnar's plan as he's celebrated as one of the UFC's best wrestlers, leaning on his college amateur wrestling experience.
Ngannou has always developed and made himself a better fighter, making him adored by MMA news websites and fans alike. In his last UFC match against Ciryl Gane, he displayed an astute wrestling ability himself, as he wanted to show that he isn't limited to striking offense. If Ngannou were to bring that performance to a match against Lesnar, it would be a fascinating encounter, as Lesnar wouldn't be able to rely on his ground game as much.
Almost Equal Tale of the Tape
Both Francis Ngannou and Brock Lesnar have walked into the octagon as exceptionally large specimens, even in combat sports. They've often towered over opponents. This wouldn't quite be the case in a hypothetical meeting between the two men. Ngannou stands at 6 ft 4 in (193 cm), a negligible margin over Lesnar, who is in the same airspace at 6 ft 3 in (191 cm). Lesnar is the heavier man by all of nine pounds (265 Lbs), yet Ngannou has a two-inch reach advantage over Lesnar. Ultimately, both massive men would face off with near identical measurements, making for a very competitive heavyweight clash.
Could This Fight Have Ever Happened, or Could it Happen?
Brock Lesnar's last MMA fight took place in July 2016 at UFC 200. This was after the best part of a five-year break where he went back to WWE as well as pursuing other business interests. By the time of that card, Francis Ngannou was already 7-1 and actively participating in UFC cards.
Given that Lesnar's fight was ruled a no-contest (originally a win for him), it wouldn't have been impossible to see him drop down the card to fight an emerging Ngannou. However, the fight is unlikely to ever take place in the octagon now. Ngannou left the UFC on pretty poor terms as he joined the PFL, while Lesnar is seemingly always rumored to rejoin the company, albeit with little substance to it. In addition, Lesnar is already 46 years old, which is seldom ideal for competing in MMA.
Of course, ardent Ngannou fans will recall that the Cameroonian called out Lesnar back in 2018 when Lesnar was close to finishing up one of his contracts with WWE. Nothing ever materialized, leading us to this conjecture about a hypothetical fight.
But could it happen in WWE? Lesnar emerged from the company and has been known to dip back into the squared circle when the conditions are right. While Ngannou hasn't explicitly stated an interest in professional wrestling, he was widely praised by both Vince McMahon and the Undertaker. Could this be a potential exhibition match for a future Wrestlemania? Could both men rely on their MMA wrestling skills to put on a show for the entertainment crowd? All it needs is Paul Heyman to hype it up, and the WWE fans would surely want to see this epic bout. That type of match would certainly get MMA News sites excited, even if it was in the professional wrestling ring.
Men of Many Talents
Regarding Francis Ngannou and Brock Lesnar, the two men celebrate a rich variety of different talents. Ngannou has fought in MMA, kickboxing, boxing and even appeared in two movies. Brock Lesnar has wrestled, pro-wrestled, fought in MMA, played American Football, and appeared in three movies (one up on Ngannou, there). Given they are both relatively prolific and charismatic, could they collaborate in a non-violent way? I.e., hosting a web show or podcast about combat sports or sports in general where they try their hand at learning new disciplines? Who wouldn't want to see Ngannou try to launch a pigskin? Or observe Lesnar dabble in kickboxing?
Find all the latest boxing news and MMA breaking updates on BoxingBlitz
THANK YOU FOR CHOOSING boxingnews.COM