Green Hopes to Test Dawson's Striking in Fight Night Main Event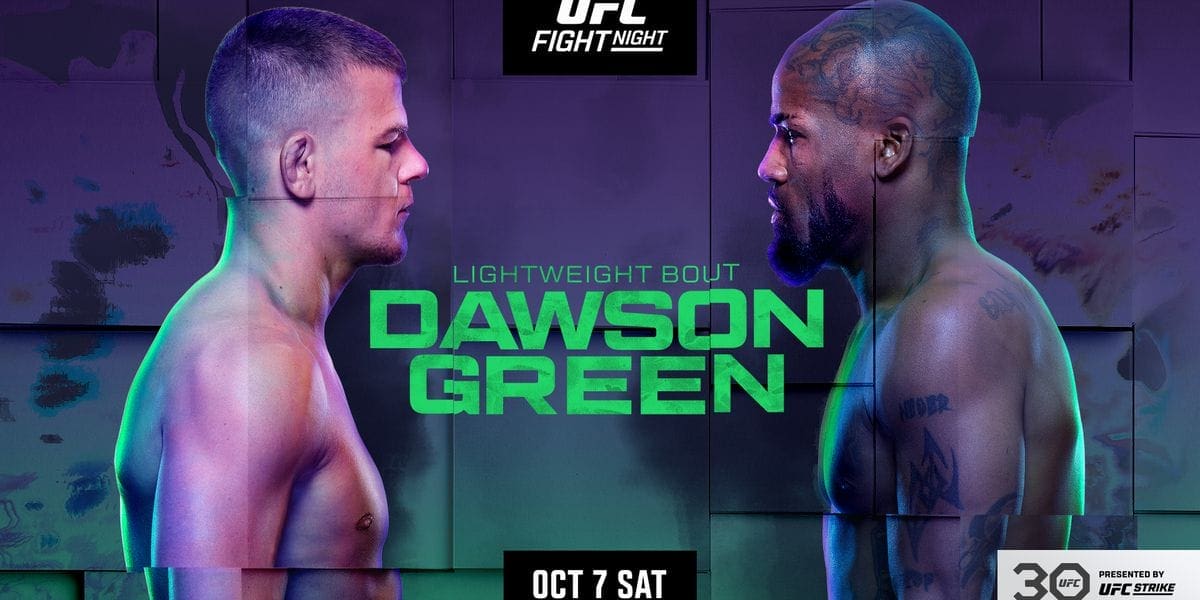 Grant Dawson hasn't had many fighters in the UFC that can handle his aggressive wrestling. Since competing on the first-ever edition of Dana White's Contender Series, Dawson has gone unbeaten in his nine fights, including one draw, during his time on the UFC main roster. There are still questions about Dawson's all-around capabilities as a fighter.
Dawson, the No. 10 lightweight, has questionable cardio and hasn't made major improvements in his striking. Putting together a good performance against veteran Bobby Green can answer some of those questions. Green is a capable veteran fighter but will need a dominant win over Dawson to crack the rankings.
Dawson Looks For Path to Title
Many people will point to Dawson's only non-victory in the UFC as a problem with him being a potential contender. He dominated the first two rounds against Ricky Glenn at a UFC Fight Night Card on Oct. 23, 2021, in Las Vegas before gassing out in the third round before nearly being finished. Glenn would earn a draw with that performance.
While the way grappling is scored has changed throughout MMA history, Dawson has made it more impactful thanks to his ground-and-pound that accompanies it. Dawson is 20-1 in his career and has won 13 of his fights by submission. Green won his last fight by submission over Tony Ferguson, but that has been a rarity during his time in the UFC.
Green has nine career submissions but only two during his UFC tenure, which stretches back to 2013. Before the win over Ferguson, Green had been on a tough stretch. He lost by knockout to Islam Makhachev and Drew Dober. Green then suffered a no contest after an accidental headbutt ended his fight with Jared Gordon.
Alhassan Looks for Spot in Crowded Middleweight Rankings
The UFC middleweight championship picture is desperate for new contenders. Many fighters in the top 10 of the rankings have already challenged for the title and lost. While Abdul Razak Alhassan's overall record has been poor recently, a winning streak could get him back into the picture for a shot at champion Sean Strickland. 
Alhassan hasn't had much luck on the scorecards since he came to the UFC. The last MMA news shows that he has lost four of his five fights in the UFC by decision. That includes a split decision loss to Joaquin Buckley in February 2022.
Alhassan will be trying to slow down rising prospect Joseph Pyfer. Pyfer made a splash last April when he knocked out Gerald Meerschaert in the first round. He has now won four consecutive gives to improve his record to 11-2 overall.
Buckley, Morono Set for Action-Packed Welterweight Bout
Fighters featuring Joaquin Buckley usually end in fireworks. Buckley is a vicious and creative striker who had one of the most memorable knockouts in UFC history when he finished Impa Kasanganay with a spinning back kick in October 2020.
Alex Morono isn't a fighter who necessarily wants to push for a finish. He has six knockout wins in his 23 professional victories and has been knocked out himself three times. Morono prefers to try and beat his opponents with an all-around game. Doing so against Buckley can be a dangerous game.
Glenn Desperate to Bounce Back
Ricky Glenn returned to the octagon last April after a two-year absence, excited at the opportunity to fight again. Despite having a favorable matchup with Christos Giagos, Glenn was dropped in the first round and suffered a knockout loss 1:35 into the first round. Now, Glenn will step back in for a lightweight matchup against Drew Dober.
Dober is also coming off a difficult knockout loss in May against Matt Frevola. The best MMA news sites know that Dobert is always looking to finish a fight. Before Dober's loss to Frevola, he had knocked out three straight opponents, including Green. 
Dober is returning to the octagon quickly after a tough knockout. This fight seems unlikely to go the distance.
Cuțelaba Hopes He's On the Upswing
Ion Cuțelaba bounced back from three straight losses by knocking out Tanner Boser last April. Previously, Cutelaba had been knocked out or submitted in his previous three fights. Cuțelaba will get a chance to prove that against Philipe Lins.
Lins has won three straight fights and six of his past eight. Lins is a versatile fighter. He was a former PFL heavyweight champion and is fighting in the UFC at light heavyweight.
Hernandez Needs Convincing Win over Algeo
Alex Hernadez was once viewed as one of the top young prospects in the UFC. But a series of mixed results have Hernandez, 30, looking to make one final push toward championship contention. Hernandez has lost three of his past five fights and is now 14-6 in his career.
Bill Algeo has won three of his past four fights. He is 17-7 with seven wins by submission. Hernandez will want to do his best to keep this fight standing.
Kowalkiewicz is on a Hot Streak
The featured preliminary fight will feature a rising Karolina Kowalkiewicz. She went nearly three years and five fights without a win in the octagon. However, since she stopped the losing streak in June 2022, Kowalkiewicz has strung together three straight victories.
She should be in a good position to pick up another win over Diana Belbita. Kowalkiewicz is a stronger striker, and Belbita has yet to impress so far in the UFC.
Other Fights on the Docket
A fight between Montana De La Rosa and Stephanie Egger was supposed to take place, but Egger pulled out. There was also supposed to be a feather fight between Daniel Pindea and Khusein Askhabov, but Askhabov was arrested in Thailand in connection with a kidnapping case.
Here are the other fights on the card:
Bantamweight: Aori Qileng vs. Johnny

Muñoz

Jr.

Flyweight: Nate Maness vs. Mateus Mendonca

Women's strawweight: Kanako Murata vs Vanessa Demopoulos.
Find all the latest boxing news and MMA breaking updates on BoxingBlitz.
THANK YOU FOR CHOOSING boxingnews.COM