Danish Dynamite Steals the Show With Upset Victory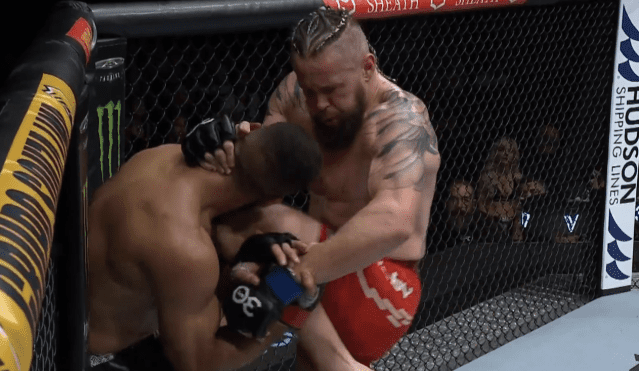 Nicolas Dalby knows he isn't invincible. But the 39-year-old Dane said in the octagon Saturday night in São Paulo, Brazil, that if he has his mind right, he can defeat his opponent. The latest MMAfighting latest news shows that Dalby defends that statement with relentless pressure.
Fighting against undefeated Brazilian youngster Gabriel Bonfim in his home country allowed Dalby's skills to shine. Bonfim dominated the first round and was in several positions where he could have possibly submitted Dalby. However, not being able to finish Dalby had severe consequences for Bonfim. 
Dalby constantly pressured Bonfim in the second round, staying in the pocket and hitting Bonfim with several power punches. Dalby would drop Bonfim near the edge of the cage with a knee and punches. When Bonfim hit the mat, Dalby utilized ground and pound to score his first finish in the cage since 2019. Dalby, a four-to-one underdog, provided excitement by beating the previously 15-0 fighter to give the night a signature moment. It was an exciting fight night overall, but the main event didn't go as expected. 
Almeida Can't Finish Lewis
Jailton Almeida has fought in four different weight classes since turning professional in 2012. What Almeida's main event fight against Derrick Lewis showed Saturday night is that maybe heavyweight isn't the place for him. Almeida, who won his first career decision to improve to 19-2, hasn't lost since dropping a decision on the Brazil regional scene in 2018.
Against Lewis, Almeida wanted to avoid falling victim to Lewis' devastating power. So Almeida repeatedly took Lewis down, which was expected. However, Almeida looked lost once he reached a dominant position. Almeida would work his way to the mount position and then stay there.
Almeida would land 38 significant strikes, record six takedowns, and make four submission attempts. But Almeida wouldn't land any of them. Lewis had bounced back with a solid knockout win in his last fight and only landed 28 total strikes in the entire fight.
A Possible Broken Hand Didn't Slow Nascimento
Rodrigo Nascimento didn't have the same spark on his punches during the third round of his heavyweight bout with Don'Tale Mayes. In the post-fight interview, Nascimento said he thought he had broken his hand. Nascimento dominated the striking between the two men in the first round.
It was a different bout than the first fight between the two men on May 16, 2020. Nascimento won by tripping Mayes and submitting him with a rear-naked choke. In the rematch, Nascimento controlled the fight with his striking. While Mayes surged in the third round, Nascimento won a unanimous decision.
Nascimento has won three straight fights and is 11-1.
Caio Misses Chance For Highlight Finish
Abus Magomedov doesn't have the best gas tank. Brazilian middleweight Caio Borralho wanted to use that to his advantage. Borralho worked a steady jab throughout the fight and built up an accumulation of damage. That wear and tear on Magomedov's psyche paid off in the final round.
Borralho landed an elbow on Magomedov that staggered him. He looked weak again after Borralho landed another strike. Borralho would then opt to grapple Madomedov, ending up in a dominant position. Borralho, who trains with the Fighting Nerds gym in São Paulo, couldn't finish the fight and settled for a unanimous decision win.
Magomedov was coming off a knockout loss to Sean Strickland earlier this year. Borralho landed an elbow along the cage that staggered Magomedov in the third round. However, instead of following up with more strikes, Borralho attempted to hop on his back for a submission. Borralho won a clear unanimous decision but had a chance for much more.
Brener Keeps Momentum Building
MMA news sites show that Elves Brener has become a reliable fighter who can put on exciting fights since entering the UFC in 2023. Brener's fight against Kaynan Kruschewsky was his third since he joined the promotion in February 2023. During the first round Saturday, Brener would drop Kruschewsky late in the first round.
When Kurschewsky lurched forward Brener, Brener could duck under his attack and land a strike to the top of Kruschewsky's head. Kruschewsky dropped immediately to the mat face first. Brener didn't need to throw another punch, and the fight was over.
Fakhretdinov Demonstrates Toughness
Russian fighter Rinat Fakhretdinov hasn't lost since 2013. He was given a good reminder that it is always possible against Elizeu Zaleski dos Santos. After winning the first two rounds on all three judges' scorecards, dos Santos put the pressure on and nearly scored a finish.
Fakhretdinov was able to hold on, however. The judges determined dos Santos did enough for a 10-8 third round. That made the fight a draw. Fakretdinov's unbeaten streak is at 20 rows, and he has a 21-1-1 record.
Fight Card Had Terrible Luck
There was initially much more planned for this fight night. However, things didn't work out for several fighters and caused changes. The bout between Brener and Kruschewsky was moved to the main card after a late shift. Armen Petrosyan and Rodolfo Vieira were supposed to have a middleweight fight to open the main event.
However, Petrosyan fell ill backstage, and the fight was removed. It was the third fight to be canceled. Gabriel Bonfim's brother, Ismael, was also supposed to fight. However, Ismael came in 3.5 pounds overweight, and his opponent, Vinc Pichel, decided not to take on a fighter who had missed weight by such a significant margin. Victor Hugo also came in overweight, and his fight with Daniel Marcos was scrapped.
Petrino Scores Impressive Victory
Vitor Petrino improved his record to 3-0 on the UFC's main roster with a knockout win over Modestas Bukauskas. It was the seventh knockout win over Petrino's career. 
Here's a look at the results not mentioned above:
Women's strawweight: Angela Hill won by decision over Denise Gomez, 30-27, 29-28×2

Catchweight: Eduardo Moura win by knockout over Montserrat Ruiz, 2:14 Round 2 

Lightweight: Marc Diakiese win by split decision over Kau

ê

Fernandes
Find all the latest boxing news and MMA breaking updates on BoxingBlitz.
THANK YOU FOR CHOOSING boxingnews.COM