Chimaev's Injury in Octagon Not Rare Occurrence for Top Fighters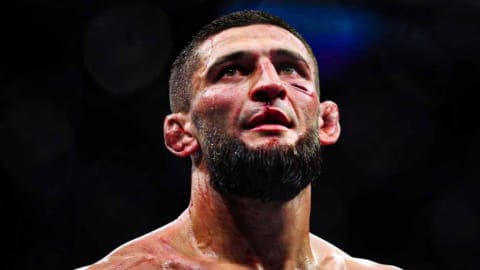 Khamzat Chimaev cemented his status as a middleweight title contender by winning a decision over former welterweight champion Kamaru Usman at the Etihad Arena in Abu Dhabi. But when, or if, he'll ever get that title shot is up in the air. The latest MMA news shows that Chimaev suffered a torn ligament in his hand during the fight.
Not only will that push back a possible fight for the championship with Sean Strickland or whoever may hold the belt when he returns, but it could mean Chimaev will take some time to adjust when he does return. Chimaev will be in a brace for at least four weeks. 
Chimaev wouldn't be the first fighter in the UFC to see his career altered following a nasty injury. But at least Chimaev still won the fight. Many fighters in UFC history who have suffered a significant injury during competition also did not get their hand raised in victory either. Here's a look at some of the worst injuries in MMA history.
Weidman Shatters Silva's Leg and His Career
Anderson Silva improved to 17-4 in his career with a vicious elbow knockout of Tony Fryklund to win and defend the Cage Rage Middleweight championship in April 2006 in London. That kicked off the start of one of the most dominant runs in MMA history. Silva didn't lose again for seven years. 
During that time, Silva scored 16 consecutive wins and defended his middleweight championship 10 times. Then Silva was paired with American wrestler Chris Weidman, who scored a shocking knockout in the second round during UFC 162 in July 2013. Some accused Silva of throwing the fight as Weidman caught Silva with a strike that dropped him while Silva was clowning him.
A rematch was set up six months later. Silva threw a leg kick, which Weidman successfully checked and shattered Silva's leg. Silva was immediately in pain and had to be helped out of the octagon. Silva had to take two years off following the injury. During the last five years of his time in the UFC, Silva only recorded one win and had five losses and a no contest.
Mystic Mac Hasn't Returned From Leg Injury
Conor McGregor has been rumored to have a scheduled fight against nearly every fighter with a heartbeat since he was a coach on The Ultimate Fighter. However, the Irish superstar and former two-division champion hasn't been the same since he lost to Dustin Poirier via doctor's stoppage in July 2021.
McGregor hasn't fought since he broke his fibula in the fight. McGregor attempted to throw a leg kick when the strike landed on Poirier's elbow. That is the impact that McGregor believes led to the injury. McGregor's fight against Poirier ended that night with McGregor unable to put any weight on that leg.
What Goes Around Comes Around
Weidman was a part of a shocking title defense, shattering Silva's leg with a leg kick. At UFC 261, Weidman suffered an eerily similar fate. But Weidman's demise came even faster than Silva's. MMA news sites show that Weidman's fight with Uriah Hall only lasted 17 seconds.
The fight only featured one strike landed. Weidman landed a leg kick that Hall blocked. Weidman's leg shattered, and Hall won by knockout. Much like Silva, Weidman's career, already declining, was never the same after.
Hill's Rise to the Top Halted Briefly
Jamahal Hill reached his dreams by winning a fight against Glover Teixeira at UFC 283 to win the light heavyweight championship. Hill, who hasn't fought since due to a tendon injury, was once devastated by another injury in the octagon. He took the only defeat in his career in June 2021 at UFC 263 against Paul Craig.
Craig, a submission specialist, had Hill in an armbar and dislocated Hill's elbow in the scramble. However, the referee didn't recognize that Hill's arm was damaged right away. Craig transitioned to a triangle and started throwing punches at Hill. Hill's arm was flopping away while he was trapped in the triangle, but he never tapped out. Eventually, the referee recognized the injury and rescued Hill by stopping the fight. 
Woodley Suffers Painful Injury vs Covington
Colby Covington had hoped to fight Tyrone Woodley long before they met on Sept. 19, 2020, in Las Vegas. Covington had hoped to take the welterweight championship off Woodley, but Usman beat him to the punch. When Covington did get his wish of fighting the former champion, MMA news websites show Covington was able to win after a brutal injury.
Covington was dominating the fight with his typical wrestling-heavy game plan. In the fifth round, Covington landed another takedown 89 seconds into the fifth round that seemed innocent enough. However, it turned out that something broke inside Woodley.
He screamed out in pain, and it was later determined that he had a broken rib.
Faber Fights Several Rounds With One Hand
Urijah Faber was one of the top featherweights in the WEC brand. He defended his title five times and would later end up in the UFC when the more prominent promotion acquired the company. Faber lost his title to Mike Brown via KO at WEC 36 in November 2008, but their rematch is a much more notable moment in Faber's career.
Faber's shot at a rematch at WEC 41 also would end in disaster. Faber broke his right hand early in the second fight against Brown. He also dislocated his left thumb. Despite the pain, Faber continued to try and regain his title. During the fifth round, Faber attempted 15 left hooks and jabs. However, his right hand was useless. Faber lost a unanimous decision but gained respect for his tough effort.
Find all the latest boxing news and MMA breaking updates on BoxingBlitz.
THANK YOU FOR CHOOSING boxingnews.COM