British Boxing Legends Set to Get Time in the Sun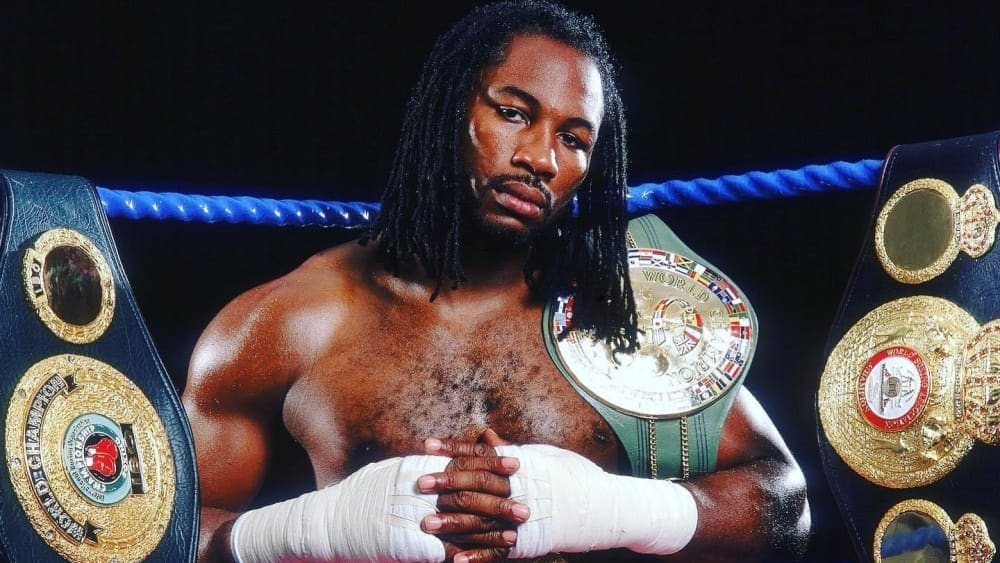 British boxers have always found their way to success as the heavyweight champion. While current lineal and WBC champion Tyson Fury has never held the undisputed title, he is inching closer to a shot at history. Before Fury, Lennox Lewis had become the gold standard of British boxing.
To this day, Lewis is still the last undisputed heavyweight champion in boxing history. A new documentary from Amazon Prime called Four Kings debuts in 2024 and will be a four-part series focusing on the rivalry between Chris Eubank, Nigel Benn, Frank Bruno, and Lewis. Through the 1980s and 90s, all four men shone a spotlight on boxing on the world stage. Now, all the fighters have a chance to reflect and revisit their rivalry.
All four men were prominent fighters on the world stage. Their bouts with each other are something fight fans will want to be eager to revisit.
Lewis Was Best Fighter of the Four
Lewis was notable for stepping into the heavyweight picture and ripping the top spot away from Mike Tyson and Evander Holyfield. As an accomplished amateur, Lewis won the gold medal at super heavyweight during the 1988 Seoul Olympics and turned professional during the following year.
Lewis would open his career 25-0 and capture the WBC title. After an upset loss to Oliver McCall in 1994, he would go on a 14-fight unbeaten streak. Following a controversial draw against Evander Holyfield in March 1999, Lewis would beat Holyfield in the rematch in November 1999 to become the first undisputed heavyweight champion since Holyfield accomplished the feat in 1992.
Lewis would never make a defense of his undisputed title as the WBA stripped him of its belt for fighting Michael Grant instead of mandatory challenger John Ruiz.
Bruno Never Could Outlast His Rivals
Bruno was a solid heavyweight who compiled a 40-5 record in his career. But in title fights, Bruno could never quite find the right touch to be champion. He lost two championship bouts to Tyson by knockout, lost via TKO in a challenge by Tim Witherspoon, and was knocked out by Lewis.
Bruno's lone championship win came in 1995 when he beat Oliver McCall to win the WBC crown. However, in Bruno's first title defense, he lost the crown to Tyson. 
Lewis vs. Bruno Was Personal
When Lewis and Bruno fought in 1993 at Cardiff Arms Park for the WBC Championship, there was a big buildup to the fight. Bruno made the buildup personal. He accused Lewis of not being British because he represented Canada in the Olympics. Lewis was born in West Ham in 1965 but moved to Canada with his mom at the age of 12. Their fight was a close one through the first six rounds.
Bruno was even ahead on one scorecard. But Lewis caught Bruno with a left hook in the seventh round and would finish him with a flurry of punches to win the fight. This was the first time in the modern era of boxing that two British fighters had met for a heavyweight championship.
Benn Was One of World's Top Middleweights
Middleweight boxer Nigel Benn saw his professional career last from 1987 to 1996. During his time in the ring, Benn would grab championships in two different weight divisions. Benn, an Ilford, East London native, still has a reputation as one of the best super middleweights in the world.
Benn started boxing while serving in the British military. He won the first 22 fights of his career before losing a surprising knockout to Michael Watson. He would win his first WBO middleweight title in 1990 by knocking out Doug DeWitt in the eighth round. He followed up with a TKO win over Iran Barkley in his first title defense. That set up Benn for a bout with Chris Eubank, who would become one of his chief rivals.
Eubank Known for Granite Chin
Stopping Chris Eubank was nearly impossible; the 5-foot-10 boxer from Dulwich, London, was known for having a granite chin. That would serve him well during his career. He opened his career with an unbeaten streak of 43 fights.
During the late part of his career, he would take several losses trying to add championships in different weight divisions when his top talent had faded. But when it came to taking on other Brits, his bout with Benn would stand out.
Benn, Eubank Featured Mental Warfare
During Benn and Eubank's first fight for the WBO middleweight title in 2023, Benn's team was trying to think of ways to intimidate Eubank. While Eubank was coming out to the ring, Benn's team had Eubank's walkout song stop while he was on his way to the ring. Eubank remained undisturbed by this.
He engaged in war with Benn. Both fighters fought ferociously through eight rounds. In the ninth round, Benn started to fade. Eubank was able to hit several extended combinations. He was able to hurt Benn with a left hook late in the round. While the fight was close on the scorecards, the referee was forced to stop the fight with five seconds left in round nine.
The rematch was a letdown for both sides. With the WBC and WBO super middleweight titles up for grabs, neither man could find a way to impress both judges. One scored the bout for Eubank, another for Benn, while the third scored the fight a draw. An interesting note on this fight was that promoter Don King wrote a clause into the contract that the winner and the loser of the fight would have to join his team, but there was nothing about a draw.
When the bout ended in a tie, neither man joined King. They also never rematched each other for a third time, despite a high purse that was offered.
Find all the latest boxing news and MMA breaking updates on BoxingBlitz.
THANK YOU FOR CHOOSING boxingnews.COM