BKFC51: Shah Loses Teeth; Another Bare-Knuckle Win for Former UFC Pro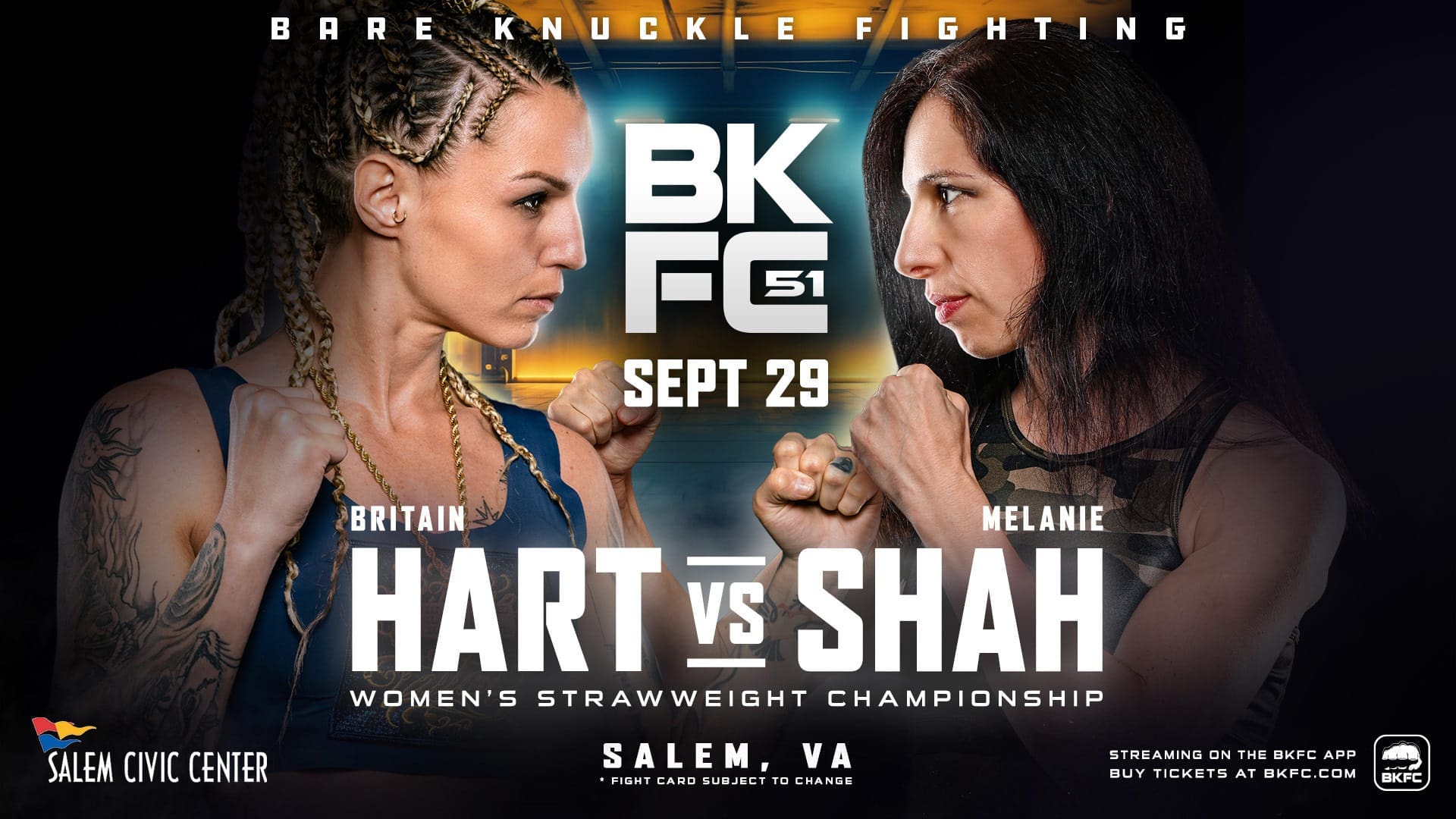 It was a raucous night at the Salem Civic Center in Virginia, US, with the Women's BKFC Strawweight Championship hanging in the balance of the main event between Britain Hart and Melanie Shah. By the end of the night, Shah had a few teeth hanging out of her mouth too.
Britain Hart sends Melanie Shah's Teeth Flying
Britain Hart notched up her eighth win in nine fights as she defeated Melanie Shah on September 29th. Her destructive performances might not end very many fights, but they do leave opponents looking noticeably different. Shah ended up with the same fate as one of Hart's vehement punches altered her smile as a tooth was seen flying out of Shah's mouth.
Hart won the fight by a unanimous decision as she largely dominated the fight. The aforementioned tooth-adjusting shot came late on in the last round. Shah was able to stay in the fight but wasn't able to land much of her own offense against the American. After the fight, Shah spoke to Bare Knuckle News extensively and was surprisingly upbeat despite having severe swelling around her eyes and a missing tooth. She was cited as already: "being ready for the next fight" and feeling 'amazing' in the aftermath.
Echoes of Ronda Rousey begin to surface as Britain Hart continues her domination of the BKFC. While Rousey didn't participate in a bare-knuckle competition, the parallels are visible in her performances as nobody seems to be able to prize her championship away. Hart is now awaiting medical clarification as to whether she can be cleared to fight in early November as part of BKFC's fifth event in Thailand. If the doctors permit another fight this year, she'll take on Chisakan Ariphipat. This could lead to more doors opening with fame in BFKC assimilating to Rowdy Bec levels, Angela Lee, or even Ronda Rousey stature.
Former UFC Fighter Pague Earns Another BFKC Win
Dustin Pague is, by all accounts, a storied fighter. The 36-year-old has won boxing fights and MMA title belts – across multiple levels of combat sports. After a series of losses in mixed martial arts, Pague transferred his pursuits to bare-knuckle fighting. Despite losing his first fight, his match at BKFC51 was his third win in the sport.
Joe Elmore was a stern opponent as the fight had to go the distance. Just like Pague, Elmore had an extensive career in MMA before entering the BKFC roster. This matchup could have headlined any BKFC event on another night, owing to their popularity in MMA disciplines.
Pague climbed to 3-1, whereas Elmore's record now stands at 2-3. While neither is likely to eclipse their successes from their prior combat sports ventures, this does open up the door for Pague and a potential title shot in BKFC. Pague looked good for his win as he controlled the striking game throughout as Elmore continually started to bleed excessively at multiple points throughout the fight.
Elmore may have to continue to prove he's got what it takes in this sport if he's going to continue. However, he'll still attract attention, ticket sales, and streaming sales, so it's not like BKFC will be showing him the door just because he lost this fight. MMA fighters can find it difficult to transition from their sport to others like boxing, even the best like Francis Ngannou. Elmore may have to work on his conditioning going forward, as he looked tired and labored throughout the latter parts of this fight. 
Abramski Violently Stops Culp in the First
43 seconds is all it took for Bruce Abramski to win his fight against Mark Culp at BKFC51. The 39-year-old had floored Culp once before the knockout strike. However, the second power shot was more than enough for the ref to call it a day. Abramski had been inactive for over five years from bare-knuckle boxing, having last been on the BKFC2 card way back in 2018. Abramski can certainly expect future calls from BKFC with a performance like that, but might have to wait a little longer for a title shot.
Abrupt Ending to Fields-Tomlinson Bout
Brett Fields and Kaine Tomlinson fought out what looked like to be a well-matched fight with venom and steely grit. Neither gave any quarter throughout the match; sadly it only lasted 99 seconds as a bizarre conclusion made the ref step in to chalk up a victory for Brett Fields.
Both Fields and Tomlinson landed simultaneous left hooks to one another. While at first it looked like both weathered the shots, Tomlinson stepped back and then almost immediately dropped to the ground with blood streaming from his forehead. What had looked like an innocuous dual-hit had left one man on the ground while Fields eased against the ropes, equally as confused at the turn of events.
While the bout felt ill-mannered at the time, both men were amicable after and exchanged hands during the result announcement. However, the freak cut and reaction might not prove much for Fields, as fight fans will probably want to see this one again before allowing Brett to move on.
Ruffin Controls Show Opener
Ka'Sim Ruffin might not be a household name or maybe not even a name in combat sports, but he put together a well-executed game plan in the preliminary fight of the evening as he continually knocked down his opponent, Daniel Gary. Ruffin managed five knockdowns until the competition was eventually stopped after less than 90 seconds of the third round. Ka'Sim shouldn't expect a main event berth just yet, but now he's 2-0, he can at least angle toward a main card call-up soon.
Find all the latest boxing news and MMA breaking updates on BoxingBlitz.
THANK YOU FOR CHOOSING boxingnews.COM