BKFC Bulgaria: Local Legends Fight on International Stage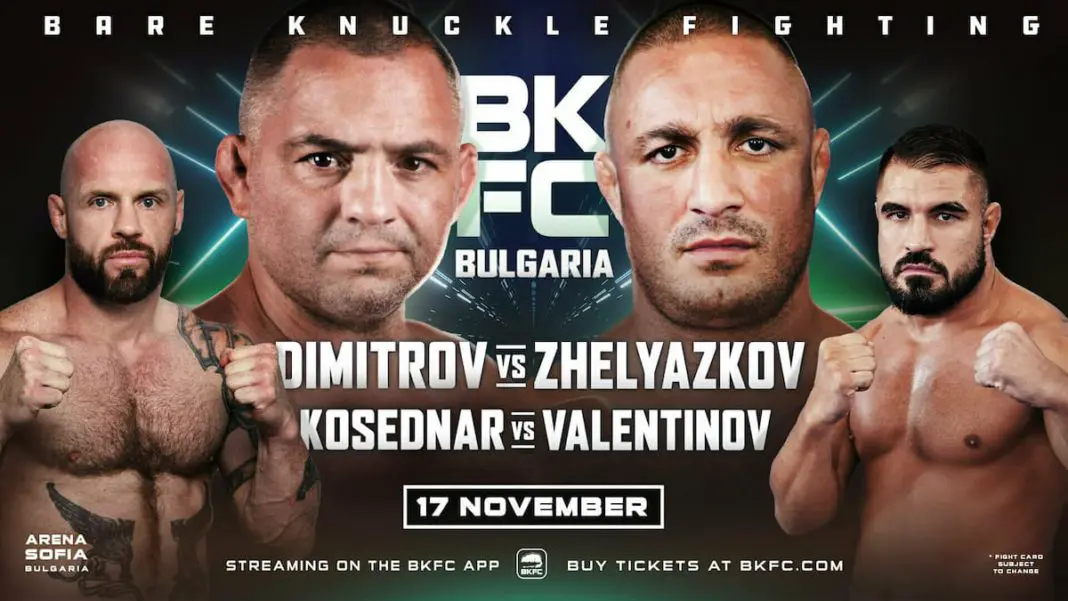 Bare-Knuckle Fighting Championship might be based out of Philadelphia, United States, and held the majority of its events in the US – but the show is going on the road with the latest event, BKFC 54, taking place in Sofia, Bulgaria, aptly named BKFC Bulgaria.
Dimitrov Gets Global Stage
Rosen Dimitrov might not be the biggest name outside of Bulgaria, but in his homeland, he is incredibly well-regarded for his longevity in MMA, his 21-3 record, and previously operating his own promotion, TWINS MMA. Now aged 41, he's changing discipline to make his bare-knuckle boxing debut in the main event here at BKFC Bulgaria. Should he be triumphant, there'll be another tirade of Bulgarian MMA Breaking News praising the legend.
He's set to fight another Bulgarian, Todor Zhelyakov, who isn't nearly as prolific as Dimitrov. Zhelyakov has a losing 2-4 MMA record and usually takes elongated periods out from the sport after each of his fights. His two wins came by way of submission, which doesn't particularly lend itself to a bare-knuckle boxing contest.
Valentinov Set to Represent Bulgaria Again
Georgi Valentinov's last fight was in MMA rules on a card that tried to showcase the best of Bulgarian and Polish fighters. Even if not all the participants were of this ancestry, there was still national pride on the line. Valentinov will make his bare-knuckle debut here as he fights a man ten years his senior, the Slovenian Bojan Kosednar.
Kosednar has the distinction of having fought in bare-knuckle competition before. He lost to Vaso Bakočević back in 2021 at Megdan Fighting 10. Regardless of the result, the experience may prove to be valuable. The Slovenian has a wealth of fights under his belt in MMA with a 12-15 record. Could he upset the locals and register a win against the Bulgarian?
Former MMA Champions Collide in BKFC
The BKFC has done a fantastic job in attracting top MMA stars to start participating in the bare-knuckle fight game. While not the biggest names outside their homelands, both Ilyas Sadykov and Vladislav Kanchev held championships in their native countries.
Sadykov will be grateful to get a fight even if he's never fought in this discipline before, as the last few scheduled fights for the Kazakhstani fighter were canceled. The Bulgarian representation in the fight, Kanchev, is an emerging MMA star who is starting to be monitored by MMA news sites as he most recently fought on OKTAGON 45 and defeated James Lewis.
Will Kolev Punch His Way to Victory?
Kaloyan Kolev might be the best MMA participant on the card to make the most of the bare-knuckle transition. The Bulgarian has an awesome 12-1 record, and the majority of his wins have come via KO or TKO as a result of his powerful punches. He's got the pedigree to succeed, having previously fought on Dana White's contender series, which earned him relative fame amongst MMA news websites at the time. That fame should lead him to a resounding reception from the hometown crowd.
His opponent is Amer Abdulnabi, a relatively well-traveled fighter. Originally native to Lebanon, he's fought in Nigeria, Georgia, and Egypt – before making this trip to Bulgaria. His record is a 2-3 in MMA, but he will look to make a winning start to his bare-knuckle career.
Specialist Fighters Square Off in Sofia
One of the more interesting fights on the card here at BKFC Bulgaria is the competition between Jedrzej Durski and Marian Dimitrov. The latter is the Bulgarian representative and is one of the largest competitors on the night, as he enters in great shape. Previously, he had an MMA career with relative success, having participated in Cage Warriors. In the build-up to this match, he fought his first bare-knuckle fight, which he won against Will Chope.
The visiting fighter, Durski, a Polish national, was originally a kickboxer. After climbing to a 2-2 record, he decided to try his hand at bare-knuckle MMA. He lost his first fight in that discipline with 37 seconds… leading him to change to bare-knuckle boxing, where he'll make his debut here in Bulgaria. Here's hoping that it lasts just a bit longer.
Romanian and Egyptian Dreams Collide
There might not be two fighters on this card with such similar career trajectories. Florin Lupu, the Romanian, is slightly ahead of his Egyptian counterpart, Mahmoud Mando. Lupu had a promising start to his combat sports career, but then a series of losses away from his home country led him to change discipline. This contest will be his third bare-knuckle fight, having won his prior two matches.
Mando is on a very similar path. He conquered the Egyptian leagues in MMA before fighting on a multitude of cards in both Russia and the UAE. This led him to six consecutive losses. At this point, he decided to try bare-knuckle boxing.
Growing International Demand for BKFC
This latest event held outside the United States is yet another indication that the BKFC is an ever-growing promotion and fight fans are warming to bare-knuckle competition. At the start of November 2023, the fifth card in Thailand took place. Oh, and one day after this event, BKFC 55 is taking place live from Leeds, England.
The allure of a big promotion like BKFC coming to Bulgaria is enough for many domestic fighters to switch discipline for the night. Many Bulgarian fighters end up participating in cards away from their homeland to make more money and get better media exposure. The fact that BKFC is coming to them allows them to fight at home, get more money in their pocket, and hopefully impress a greater audience.
Find all the latest boxing news and MMA breaking updates on BoxingBlitz.
THANK YOU FOR CHOOSING boxingnews.COM