BKFC 52: Bantamweight Championship Decided in South Carolina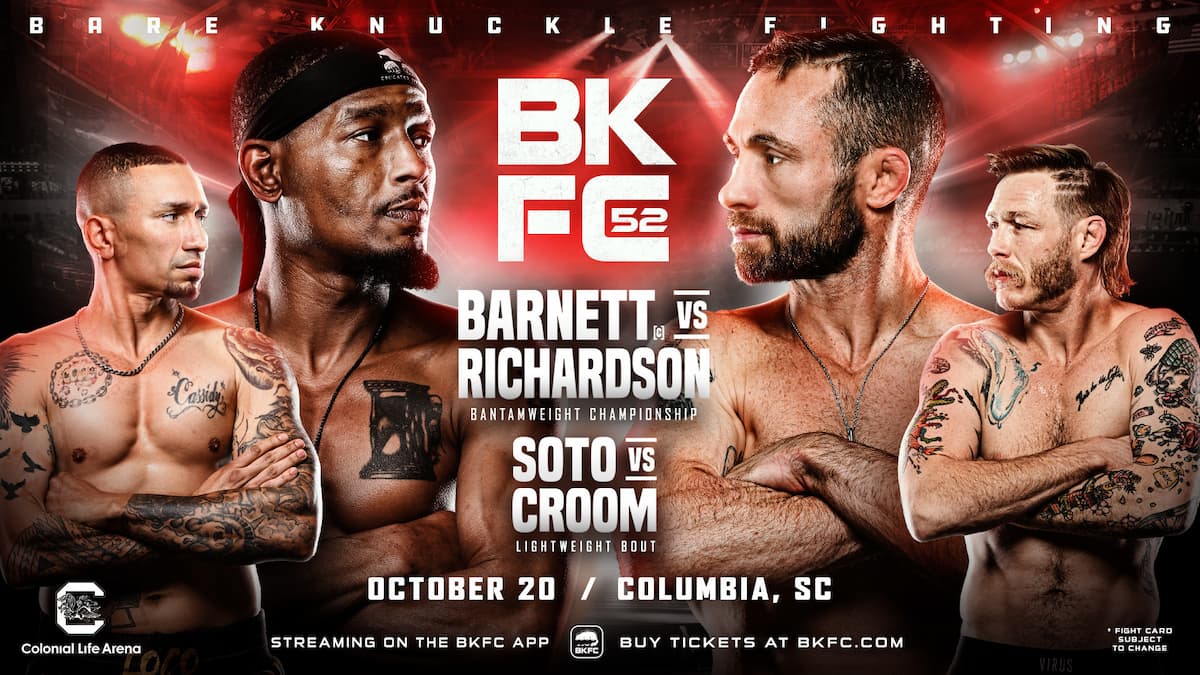 The Bare Knuckle Fighting Championship reaches event number 52 and, as such, has a stacked card at the Colonial Life Arena down in Columbia, South Carolina.
Undefeated Richardson Eyes BKFC Glory
Keith Richardson, the affectionately named Rockstar, knows a thing or two about rocking his opponent down to the ground. While his MMA career and ascendency to the Bellator roster ended in two straight defeats, he's since rebuilt his career with BKFC, having picked up three straight wins in the organization. After winning his last two fights by knockout, he's been booked to fight for the BKFC Bantamweight Championship. He's already been telling BKFC media that he wants to win the fight by knocking the champion out.
It's never quite as easy as just picking up the title belt, however. Standing in Richardson's path is the Educated Hands. Reggie Bennet Jr is the reigning champion and a stalwart of BKFC, having fought for the promotion since BKFC1 in 2018. Subsequently, he's a firm favorite of bare-knuckle fans and the BKFC management for his longevity. His path here was altogether very different. He didn't have nearly as much success in MMA as he quit when his record stood at 3-4. Yet he's 9-2 in BKFC, and he's not going to let Richardson take over without a fight.
BKFC Facilitates Crossovers: Soto III vs. Croom
Do not adjust your set. We are referring to Kevin Croom. In case you didn't know, Kevin Croom is one of the hardest-working and most active fighters to ever fight in MMA. He debuted in 2009, went 0-2, but closed out the year with a 2-2 record. That hard work and dedication took him to the heights of Titan FC, Bellator, and the UFC. Now he's plowing his trade in bare-knuckle competition, and he's won his first two fights in BKFC, most notably winning with a first-round knockout at KnuckleMania 3.
Antonio Soto III initially started his combat sports career as a boxer. He fought on two Lavonte Early cards and won both of his fights. He decided that the gloves were too much of a drag for him, so ditched them to link up with the BKFC in 2021. He's had five fights since joining the promotion, won them all, and four by stoppage.
This MMA meets boxing fight has many synergies with the contemporary hype surrounding crossover fights where fighters from different disciplines square off. If Croom wins here, it makes him even more popular. Whether or not Tony wins, he'll surely convince the BKFC management he needs a title shot soon.
Bridges Takes on Debutant Scott in Must-Win Fight
Chevvy Bridges isn't having the best of times right now. He's lost his last two fights in BKFC by knockout, which has put his career in jeopardy somewhat. 1-2 isn't the worst reading, but it's certainly not good either. He made the switch from MMA after his career in that discipline also failed to gain traction, leaving the sport on a 5-3 record. If he's to make serious headway in the BKFC, he needs a win here in South Carolina.
Enter another MMA transitioning combatant, Jeremiah Scott. After years in Warfare MMA, Fight Lab, and even one pro boxing fight, as well as a singular Muay Thai bout, he's debuting in BKFC. Scott doesn't have the amount of pressure on him to win. While losing (or failing to win) would be inconvenient in his debut, slipping to 1-3 for Bridges would be a fatal error.
Holloway Fights Fellow Veteran VanCamp
Who remembers these two? There's a good chance of recollecting Jeremie Holloway and Cameron VanCamp, considering they've fought more than 30 fights between them and fought within esteemed promotions like UFC and Bellator.
Holloway introduced himself to the BKFC faithful earlier this year with a majority decision draw against Will Santiago. While it wasn't a winning start, it was better than losing. He's looking to get the win column started in this match against Cameron VanCamp. The only issue is that VanCamp fought at a much higher level in MMA than Holloway, and even if this is his bare-knuckle debut, he's still considered the favorite going into the fight. He's also won a fight much more recently, in 2021. Holloway has to recall the pre-pandemic world to reminisce on his last fight win as it came back in June 2019.
North Carolina's Carson Opens Main Card
The Carolina Gamedog, Trukon Carson, opens the main card at BKFC52 with a light heavyweight contest. Carson is one of the distinct characters in the fight game with a passion for entertaining the crowds. Whether it's his destructive fighting style or straight-talking media appearances (with a thick Carolina accent) that make him appealing, he will hope that the South Carolina crowd will welcome him as one of their own, even if he was born north of the border.
His opponent is the BKFC debutant fighter Daishaun Middleton. Unlike Carson, Middleton is actually from South Carolina, so may be able to sway some fans on the night to cheer for him. Unfortunately, he's got an incredibly poor fight career record. His professional MMA career appears to be over after he went 0-3. Then he tried his hand at Muay Thai, where he suffered two straight losses. Joining the BKFC could be the last throw of the dice for Middleton, as he is quickly running out of options.
Find all the latest boxing news and MMA breaking updates on BoxingBlitz.
THANK YOU FOR CHOOSING boxingnews.COM