Best MMA Grapplers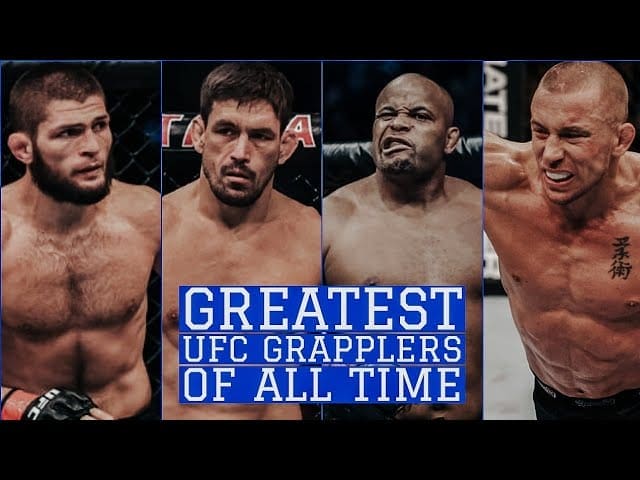 It's impossible to be a one-trick pony anymore in Mixed Martial Arts. Having devastating power in your right hand or the ability to wrestle is nice, but you need a blend of everything to be a champion. But when it comes to grappling, the wizardry some people have turned in while fighting in the cage has left as big an impression as any knockout.
What makes grapplers difficult to stop is their ability to wear their opponents out when they are in dominant positions. Once their opponents start to tire, the best grapplers hunt for chokes and try to put their opponents to sleep to bring the fight to an early conclusion.
Fighters like Dillon Danis, who competed in Bellator, earned their way into MMA by being exceptional grapplers, but he never added much else. People who were able to add other tools with an exceptional grappling background found plenty of long-term success in the cage. Here's a look at the fighters who excelled in that skill.
One of UFC's First Megastars Was BJJ Artist
Royce Gracie and Ken Shamrock's rivalry carried the UFC during its early days. But Gracie's success in Brazilian jiu-jitsu would be something he practiced around the world. After becoming the only three-time UFC Tournament winner in 1994 by submitting Dan Severn, Gracie would seek out more challenges.
When Gracie went to Japan and competed in Pride, he competed in an event that had modified rules at the 2000 Openweight Grand Prix. In the quarterfinals against Kazushi Sakuraba, Gracie competed in an event that had unlimited rounds and no referee stoppages. Gracie lost to Sakuraba after a corner stoppage following the fifth round.
Gracie's grappling-heavy style did result in three draws during his career. Gracie did wrap up his career with a 15-2-3 record and 11 submissions in a career short by today's standards, according to MMA news sites.
Rousey Paved the Way for Women in MMA with Judo
Ronda Rousey was, at one point, one of the biggest stars in MMA. The American judoka still has fans clamoring for her return despite her not fighting in nearly seven years. Rousey wasn't the first woman to compete in MMA.
But she is the one who had the personality to match the skills to sell UFC CEO Dana White on women's MMA being a viable money maker for the organization. Rousey was known for using judo throws to help get her opponents on the ground to set up the armbar.
Rousey was the first U.S. woman to ever medal at the Olympics in Judo at the 2008 Beijing Olympics. Once Rousey transitioned to MMA, she won her first 12 fights, all by stoppage. Nine of Rousey's wins came by submission. Rousey's long run of success came to an end when she lost to Holly Holm at UFC 193 by vicious head kick knockout.
Rousey would lose her next fight to Amanda Nunes, also by knockout. She then reinvented herself as a professional wrestler with the WWE.
Dern Trying to Climb Toward the Top
Mackenzie Dern, an ADD Fighting World Champion and no gi BJJ world champion, has been hanging out in the top 10 of the women's strawweight rankings for many years. A lack of striking and cardio has held her back from reaching the top. Dern is 13-3 in her career and is creative when the fight hits the mat.
She has one of the few kneebar submissions in UFC history. Dern has also won fights via armbar and rear naked choke. When Dern has lost fights in MMA, it has been primarily because she couldn't get fights to the mat. But any fight she has forced to the ground has usually gone in her favor.
In the MMA latest updates, Dern will perhaps have the biggest fight of her career up next. Dern will fight former champion Jessica Andrade in November. Andrade has been defeated several times recently and will be a good test for Dern.
Mighty Mouse Lives Fighting
Even at age 37, Demetrious Johnson continues to add different accolades to his already storied career. He recently won a World IBJJF Tournament as a brown belt. The 5-foot-3 Johnson has spent most of his career fighting for respect.
Despite defending his flyweight title a record 11 times, he was often at odds with the UFC over how well his fights sold and how he should be paid. When Johnson felt the most disrespected, he made the decision to jump to ONE Championship. He captured the flyweight championship in ONE and has defended it there.
Johnson didn't wrestle collegiately but did have a strong amateur background in the high school ranks in Washington. 
St. Pierre Was a Wrestling Wizard
Wrestling is the grappling type that can be weaponized against the person using it the most. Many people who prefer a wrestling-heavy MMA style can be criticized for just laying on top of someone. But Georges St-Pierre was able to utilize his grappling in a dominant career that led to him winning championships in two different UFC weight divisions.
St-Pierre also tested himself outside the octagon. He competed in the ADCC Submission World Wrestling Championship and won his first fight before being submitted in the second round. But the UFC would be the place where GSP really shined.
GSP defended his welterweight title nine times before retiring following a split-decision victory over Johnny Hendricks at UFC 167 in November 2013. After retiring, GSP was lured back to fight Michael Bisping for the middleweight championship in 2017. He dominated Bisping for three rounds before submitting him to become a two-division champion. GSP would retire again after the fight due to health difficulties.
Find all the latest boxing news and MMA breaking updates on BoxingBlitz.
THANK YOU FOR CHOOSING boxingnews.COM