Bellator 300: 4 Championships in Stacked Main Card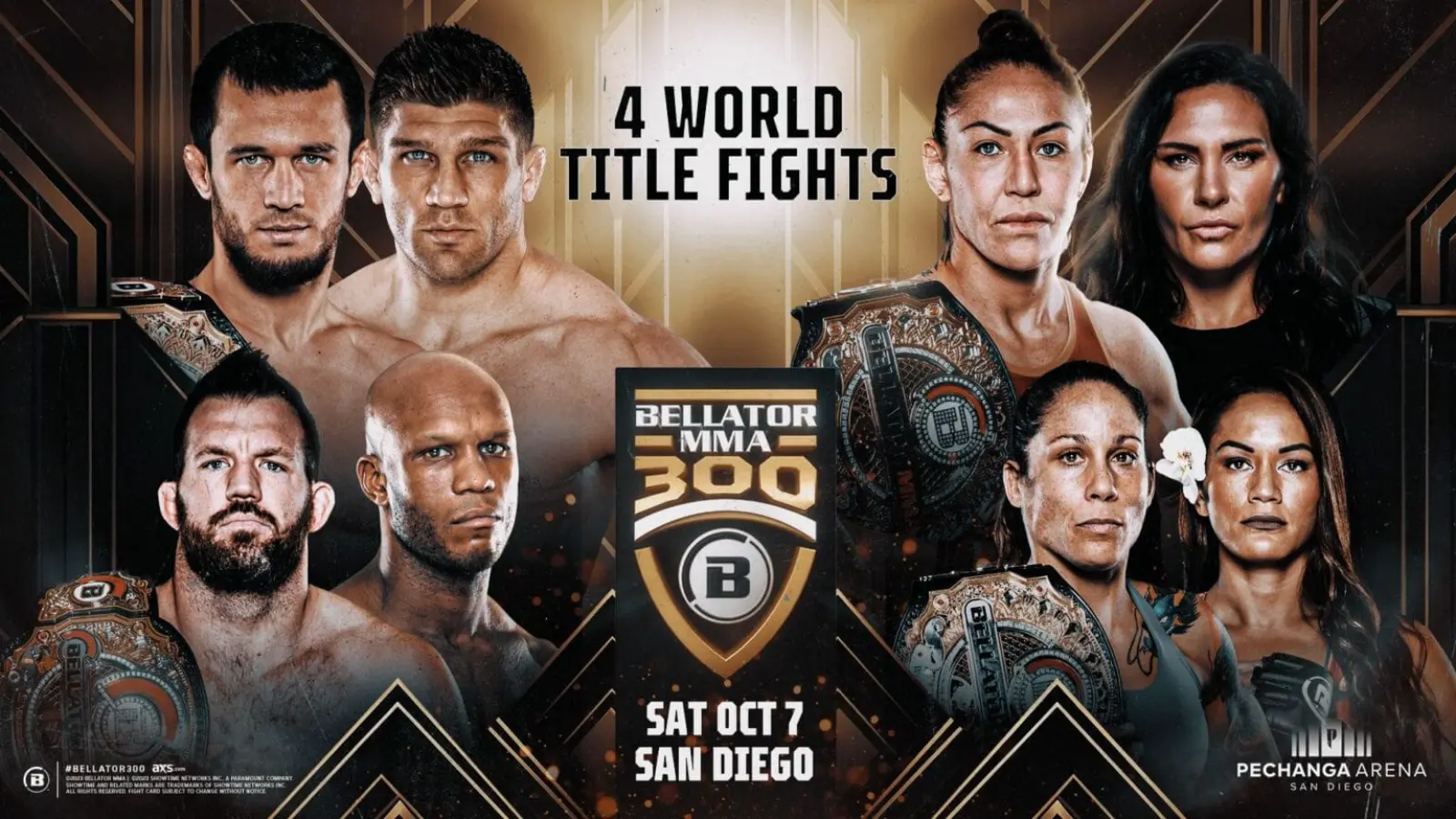 Whatever you think of Bellator and its position in the MMA landscape, nobody can deny their effort with the Bellator 300 main card – with four championship fights that could easily main event their own nights. Who will emerge as the winners and losers from the Pechanga Arena on October 7th?
Lightweight World Grand Prix Semi-Final: Nurmagomedov vs. Primus
The Bellator Lightweight World Grand Prix Tournament is set to include the current champion, Usman Nurmagomedov, defending the title against Brent Primus as the promotion looks to find a definitive Lightweight division champion. Nurmagomedov is 17 fights into his MMA career, winning all of them and getting the stoppage victory in 14 of them. At only 25 years old, the sky's the limit for him. The only problem is that his resume doesn't have many names on it; he's not proven himself to a wide audience. That's where Brent Primus comes in. A veteran and former lightweight champion would make for a great name to enrich the Russian's beaten list.
Now 38 years old, Brent Primus knows that he's not the favorite in this fight. He's done well to simply get this far in the Grand Prix bracket. After all, he was a last-minute addition to the contest when Sidney Outlaw was suspended for a positive drug test. Primus has held the Bellator Lightweight World Championship belt before, having defeated Michael Chandler back in 2017. To replay that fight on UFC 5 however, you'll have to make Primus as a custom fighter, if you so desire.
Cyborg Returns to Defend Belt
Cris Cyborg has been the Bellator Women's Featherweight World Champion since January 2020, when she defeated Julia Budd at Bellator 238. While she was a mainstay of the Bellator product, over the past year she's branched out, as she became a free agent last summer and has also embarked on a boxing career. Boxing news sites were shocked to report that she won both of her fights! She's not been in a Bellator cage since April 2022 but is set for a grand return against Cat Zingano.
Cathilee Zingano has been on a real hot streak since joining Bellator back in 2020, having won all her last four fights. Most recently, she defeated Leah McCourt back in March this year, arguably earning her this title fight against Cris Cyborg. Despite the two women being a similar age and both having been signed to UFC and Invicta at similar times, this will be the first confrontation between the two – largely due to Zingano spending the early part of her career at bantamweight.
Given Cyborg's inactivity, this might be the setup for her victory lap before calling it a day. Zingano might be older but has remained a lot more active in MMA, giving her an edge in the build-up to the fight. Cyborg may have had to change her gym regime to re-adjust back to MMA, but will have plenty of options.
Heavyweights Re-Match: Bader vs. Vassell II
Ryan Bader's longevity in MMA has earned a cult following, that's not even mentioning his 31-win record from his 39 professional bouts. Match number 40 for Bader is a re-match against Linton Vassell – with the Bellator Heavyweight Championship hanging in the balance. Bader successfully defended the Bellator Light Heavyweight Championship when the two fighters met in 2017 – will it be the same result this time: Bader walks in the champ and walks out with the belt, again? Bader already has the mantle of retiring Fedor Emelianenko as he defeated the iconic fighter in his last-ever bout in March this year.
The road to this personal re-match for Linton Vassell has been long. After finding himself on the deck in the first encounter, the Englishman endured another two consecutive defeats, even in his return to the heavyweight division. The contemporary Vassell is arguably a different fighter, more fierce and efficient. His last two fights ended within the first round; most impressively, he defeated Valentin Moldavsky, a former interim Bellator heavyweight champion.
Macfarlane Looks to Seize Championship
MMA Breaking News! Ilima-Lei Macfarlane is back fighting for the belt! For many fight fans, she was the poster girl for Bellator. The native Hawaiian enjoyed an 11-match winning streak where she won and defended the Bellator Women's Flyweight Championship after becoming the inaugural winner. From 2017 to 2020, nobody could stop her. Her fight career speaks for itself, but the Illiminator has also gained a following through her social media channels as she often promotes self-care and mental health awareness. Juliana Vazquez stopped the party in late 2020, and since then the women's flyweight division has been riddled with inconsistent championship reigns – nobody truly looking like they can emulate the success that Macfarlane had. So, she's back to do it all over again, starting on this massive card at Bellator 300.
Despite taking two years out after losing her title, Macfarlane has returned to the heights of the Bellator division, having won her last two fights against Kana Watanabe and Bruna Ellen. Both of which are by decision.
The woman on the other side of the cage is Liz Carmouche. The American fighter has fought seemingly every standout fighter of the past ten years. While she's not won all these fights, she's shared the ring with Valentina Shevchenko, Ronda Rousey, Jessica Andrade, Miesha Tate, and Kana Watanabe – she's got the pedigree for sure.
The interesting aspect of the fight here is that Macfarlane seemingly now tries to win fights by going the distance. Whether or not Carmouche does the opposite, she clearly doesn't get paid by the hour, so wants to finish them. It was a quick night against Watanabe when she dealt with her in 35 seconds with a series of vicious blows, which won a TKO. Her last two fights have both ended in submission victories.
Best of the Prelims
The four aforementioned fights are all set for the main card and make up this quadruple header billing for the card. Some of the other fights will probably get bumped up – but here's the best of the other action at Bellator 300. Sara McMann and Leah McCourt fight it out in the Women's Featherweight division, with both fighters having a keen eye on the Cyborg-Zingano bout as they angle for a future title shot. Two former King of the Cage fighters, Henry Corrales and Kai Kamaka III, also have got the call-up for this card as the pair will face off in a featherweight contest.
Find all the latest boxing news and MMA breaking updates on BoxingBlitz.
THANK YOU FOR CHOOSING boxingnews.COM