American Looks to Make Splash in UK During BKFC 55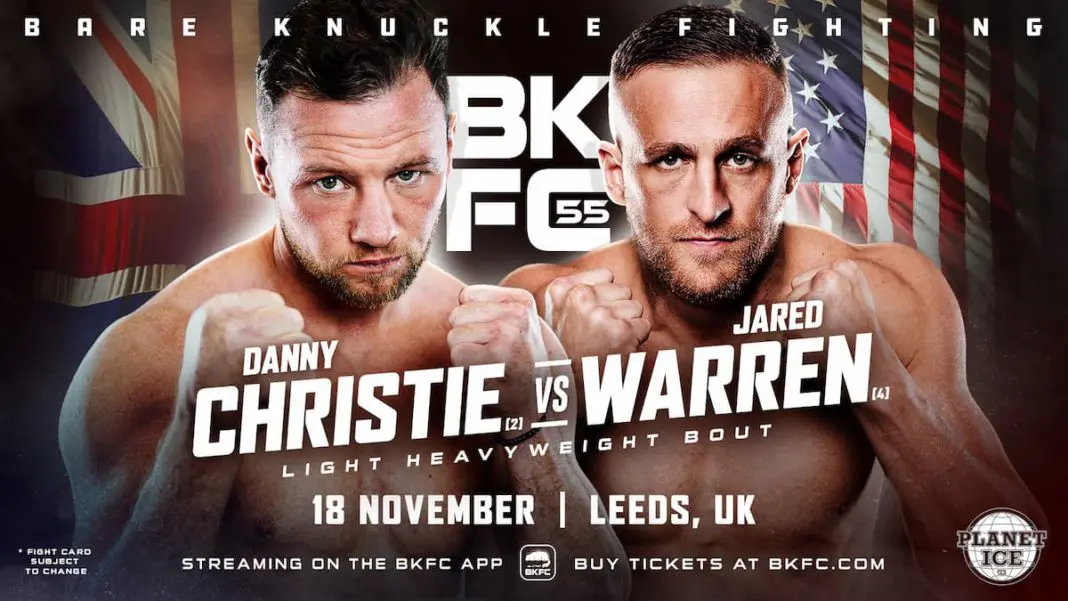 Danny Christie is the highest-ranked British fighter in the Bare Knuckle Fighting Championships. Christie will now have a chance to protect that ranking on home turf. Christie, ranked No. 2 in the lightweight division, has started his BKFC career with a 3-0 record and finished all three victories with knockouts.
American Jared Warren will be the man standing between Christie and another victory on Nov. 18 at Planet Ice Leeds in Leeds, England. Warren is a more experienced fighter than Christie but has also taken more damage. During Warren's first seven fights in BKFC, recent boxing news showed he has taken two losses, including a knockout.
BKFC 55 will be full of local talent and should provide an exciting night of entertainment for people interested in the relatively new promotion.
Christie Has Found Home in BKFC
Christie has an eye on Lorenzo Hunt's cruiserweight title after only three bouts in the promotion. All of his success has come quickly. Christie debuted in the BKFC in August 2022 when he knocked out Terry Brazier. Christie followed that up with knockout victories over Darren Godfrey and Anthony Holmes.
Christie is eager to get a shot at a championship. He found his way into fighting after living a tough life. Christie, who said he has 33 convictions for drugs, violence, and witness intimidation, isn't convinced he could get a visa to fight in the United States. Christie did say in May of this year that he cleaned up and had been sober for more than a year.
Christie didn't have any combat sports record in MMA or boxing before getting involved with BKFC. Still, Christie has fought with a tenacity that has put more experienced fighters on their heels. He will hope to continue to fight with that tough nature as he tries to stack more victories in his career.
Warren Ready to Explore New Territory
Warren isn't intimidated by having to travel across the pond. While Warren has been to England before, it was only a stopover before heading elsewhere in Europe. Having to take on Christie in his home country will be a different type of challenge. 
Three of Warren's wins in BKFC have come via knockout. However, Warren has dialed back on his activity during 2023. After making four fights in 2022, Warren, who lives in Tampa, Fla., has only had one bout this year. Warren fought Josh Dyer earlier this year, attempting to avenge an earlier knockout loss.
However, the fight ended in a no-contest due to strikes to the back of the head. Online boxing news shows Warren couldn't get in another fight after that before agreeing to fight Christie. Despite this, Warren is in fifth place in the rankings at light heavyweight. If Warren could find a way to get past Christie, he may have a championship fight in his future.
Warren fought three times in professional MMA for the Real Fighting Championships and compiled a 1-2 record.
Holmes Tries Out Middleweight for Co-Main Event
Anthony Holmes is coming off a brutal loss to Christie, where Holmes lost via TKO to Christie in a fight for the U.K. Middleweight title. Before the loss to Christie, Holmes was on a five-fight unbeaten streak, including a knockout win over Daniel Lerwell in November 2021. Holmes developed an amateur MMA background before getting involved with bare-knuckle fighting.
Holmes was 3-0 during his MMA fights. Holmes will have to take on an up-and-comer in Polish fighter Bart Król. Król, who had several amateur MMA fights, has found a home in BKFC. Król has already fought twice in 2023. During his BKFC debut, Król impressed by knocking out Ashley Griffiths in 64 seconds. He followed that up by winning a decision over Sebastian Krautwald in July.
Making Debut Always Provides Interesting Challenge
English fighter Matt Hodgson is ready to see what the BKFC has in store for him at cruiserweight. Despite not having fought in the BKFC before, Hodgson isn't short on experience. Hodgson has put up a 3-2 record in other organizations before finding his way to the BKFC.
World boxing latest news shows that Hodgson is a fighter who will likely be an exciting addition to the promotion. The results of his fights have proven to be rather binary. Hodgson either knocks out his opponent or goes to sleep himself. Hodgson will be taking on journeyman fighter Mason Shaw in his first bout in the promotion.
Shaw is 6-4-1 in the BKFC. He has won his last three fights, including two knockouts. Before coming to the BKFC, Shaw fought in another bare-knuckle promotion. Shaw will hope to lean on that experience to grab another victory.
Cheesecake Assassin Ready for BKFC Debut
Danny "The Cheesecake Assassin" Mitchell has plenty of experience in combat sports. Mitchell finished his professional MMA career with a 20-9-1 record and was able to compete in both Bellator and the UFC. Mitchell wasn't known for his striking while he was in MMA.
Mitchell won six of his professional MMA fights by KO. He finished 13 victories by submission, which won't help him in BKFC. John Ferguson will be Mitchell's first challenge in the BKFC. Ferguson doesn't have a lot of bare-knuckle boxing experience either. Ferguson made his BKFC debut at a fight night in November 2022. He ended up winning a unanimous decision against Tom Scott.
BKFC Always Provides Plenty of Fight Options
The BKFC always wants to keep its fans wanting more. That's why they always try to load up the cards as much as possible. Here's a look at other bouts on the card set for Nov. 18.
Luke Atkin vs. Darren Hendry

Gary Fox vs. Robbie Brown

Nathan Owens vs. Conor Cooke

Karl Thompson vs. Dawid Oskar

Antoni Moscatiello vs. Patryk Sagan

Luke Nevin vs. Paul Cook

Jonny Graham vs. Abel Radomski

Anthony Faulkner vs. Rob Cunningham
Find all the latest boxing news and MMA breaking updates on BoxingBlitz.
THANK YOU FOR CHOOSING boxingnews.COM